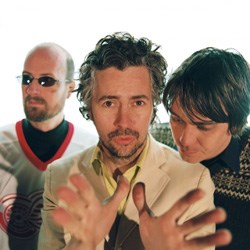 Tampa, Florida (PRWEB) November 20, 2013
Oklahoma's fearless freaks and three-time Grammy winners The Flaming Lips have joined the lineup for the 2014 Gasparilla Music Festival, taking place Saturday and Sunday, March 8 and 9, 2014 in downtown Tampa.
Flaming Lips front man Wayne Coyne and crew will join Latin Grammy-winning Venezuelan collective Los Amigos Invisibles, Brooklyn-based indie rockers Delta Spirit, Americana singer-songwriter and former member of the Southern rock band Drive by Truckers, Jason Isbell, and acclaimed New Orleans roots rocker Anders Osborne for the 3rd-annual GMF.
Their Saturday night headlining set in Tampa's Curtis Hixon Waterfront Park is currently the only scheduled Florida stop for the Flaming Lips, whose career has spanned 30 years and 16 albums. The band's last appearance in the Tampa Bay area was in 2010 at Janus LIVE.
GMF 2014 will feature 40 bands on four stages over the course of Saturday and Sunday, and additional performers will be announced in the coming weeks.
Two-day general admission "Early Bird" tickets for GMF are currently on sale for $40 for a limited time. VIP tickets are available for $150, which, like the general admission tickets, includes both Saturday and Sunday.
Tickets are available through the GMF website (gasparillamusicfestival.com), via Ticket Fly, and at select local ticket outlets including Daddy Kool Records, The Hub, Microgroove, Duckweed Market, Mojo Books and Music and KT Janes in South Tampa. Admission is free for children ages 12 and under.
GA tickets will increase to $60 at a later date, and single-day tickets will also be available closer to the date of the festival, if available.
Last year's GMF drew nearly 10,000 attendees who enjoyed 40 bands on four stages in Curtis Hixon Waterfront Park and Kiley Gardens in downtown Tampa.
Now in its third year, the Gasparilla Music Festival, a 501(C)3 non-profit organization, has become one of Tampa's signature events and the most popular music festival in the bay area, earning Creative Loafing's Readers' Choice award for "Best Music Festival" for the second consecutive year, along with the Critics' Pick for "Best Repeat Performance."
Children's Festival
As in years past, GMF features a children's festival-within-the-festival from 11 a.m. until 2 p.m. on Saturday in Kiley Gardens, located between Curtis Hixon Park and Rivergate Tower. In addition to family-friendly entertainment in Kiley Gardens there will be arts and crafts, games and other activities for children.
Tibbetts' Corner
Also returning this year is Tibbetts' Corner, an homage to the once-raucous intersection of Franklin Street and Lafayette (Kennedy Blvd.) in downtown Tampa during the late 1800s. GMF's Tibbetts' Corner features funky local craft vendors and eclectic performers on the Tibbetts' Corner Community Arts Stage sponsored by Creative Contractors.
Visit http://www.gasparillamusicfestival.com for festival updates and details, including the complete lineup, food and beverage offerings, and sponsorship opportunities.
The Gasparilla Music Festival is sponsored by FL Legal Group, the Tampa Bay Times, Soulshine, Carte Blanche Wines, Sweetwater Brewing Company, The Dohring Group, Amalie Oil, Gulf Shore Bank, Franklin Street, Courtney Roberts, Malio's Restaurant, Hill Ward Henderson, Roundhouse Creative, Baker Barrios, Cassidy-Turley, Ferman Motor Car Company, Creative Contractors, Tampa Yankees, Xavier Jackman, L.H. Marshal, Hallucination Media, and Acidflyers.com.
(End)