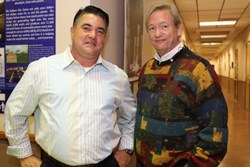 Solar energy is one of our best resources ... It's a commitment worth having.
Las Vegas, NV (PRWEB) November 20, 2013
In a city with hundreds of days of sunshine, it's hard to believe that solar power is only sparsely seen on the rooftops of homes and businesses in Las Vegas. However, when Service 1st Energy Solutions set out to change that, a relationship was developed with Solutions Foundation, a leading drug and alcohol rehabilitation center. On November 7th, over 200 guests joined together at Solutions Wellness Campus to celebrate going green with Service 1st Energy Solutions.
The evening included special presentations from General Manager of Service 1st Energy Solutions, Tim Fromhart, and famous comedian, Mark Lundholm, performing his critically acclaimed skit ADDICTED.
This event served as a platform to introduce a new audience to solar power, discussing the concepts of a net zero power bill, the benefits involved with solar energy and how government incentives help make solar more affordable.
The discussion opened up the audience to the possibilities of living in a greener society, focused on preserving our resources and controlling expenses, especially for local non-profit businesses. Non-profits such as churches, schools, and other organizations can take advantage of NV Energy incentives that provide monetary awards for solar power installations.
These awards amount to thousands of dollars in annual savings and coordinating these efforts has become a specialized department at Service 1st Energy Solutions. Scott Shaw, Director of Research and Development, devotes his time to seeking non-profit organizations who can utilize this opportunity to get free power from the sun.
"Solar energy is one of our best resources. Non-profit organizations do so many great things for our community, so if by eliminating power bills, we can help them have access to even more money for their initiatives, we are really contributing to the success of our city," says Shaw, "It's a commitment worth having."
With this commitment, Scott Shaw started Vital Synergy, a non-profit organization dedicated to helping other non-profits in the Las Vegas area get funding for solar power projects that will eliminate or at least heavily decrease their utility bills.
"Vital Synergy is unique in that it focuses on more than spreading solar power; it brings people together for a positive cause that enriches the future," explains Shaw. It is through this concept that Solutions Foundation received its award and now enjoys free power.
For more pictures of this event, please visit Solutions Foundation.
About Service 1st Energy Solutions
Service 1st Energy Solutions specializes in energy efficient packages including HVAC upgrades, weatherization options and solar power for both Las Vegas residences and commercial businesses. With over 25 years of experience serving southern Nevada, Service 1st Energy Solutions focuses on educating consumers about energy efficient solutions. Installations completed by Service 1st Energy Solutions include over 15,000 solar panels that are currently generating over 3 megawatts of solar power to the Las Vegas area.