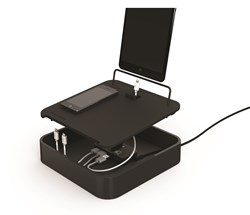 Sanctuary4 is designed to stand the test of time, allowing consumers to update and customize their cables each time they change their device.
Pasadena, CA (PRWEB) November 19, 2013
Breaking the boundaries of broad-spectrum charging stations, Bluelounge today releases a completely reengineered Sanctuary – Sanctuary4 delivers exceptional charging speed with four amps of power to charge up to four devices simultaneously at maximum velocity.
The new Sanctuary4 gives consumers customizable connectivity so they can choose the cables that work best for their needs, so as consumers change their devices, they can tailor their Sanctuary4 to precisely what they need.
Unlike most comprehensive charging stations, Sanctuary4 is tablet-inclusive, with a built in tablet stand, reducing the amount of counter or tabletop space needed while charging devices at once. The angle-adjustable tablet stand was designed to work with all tablets, with and without cases, while still being minimal and discreet to keep the design clean and simple.
Sanctuary4 is available in black or white at a suggested retail price of $99.95. Bluelounge products are currently available online and at select retailers worldwide. To find a retailer nearby, please visit our store locator.
For more information on Sanctuary4, visit http://www.bluelounge.com.
Follow Bluelounge on Twitter at twitter.com/bluelounge and on Facebook at facebook.com/bluelounge for the latest news on all Bluelounge products.
About Bluelounge
Bluelounge is an award-winning, international design studio known for its clever products that solve everyday problems through design.
Each product is designed to provide an effortless solution that stands the test of time and integrates into your life so seamlessly, you can't remember living without it.
Under the creative direction of Dominic Symons, the Bluelounge team is a vibrant collective that champions ingenuity and embraces creativity to fuel innovation.
Bluelounge is headquartered in Singapore, with studios in Jakarta, Indonesia and Pasadena, California.
Note to reporters: High-res images are available here: http://www.bluelounge.com/media.
Media Contact:
Kaitlin McIntyre Hawk
Bluelounge
P | 626.564.2802 ext. 706
kaitlin(at)bluelounge(dot)com