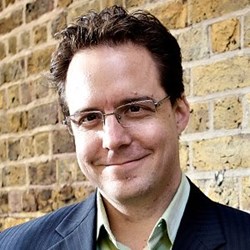 Lee's track record for disrupting markets with new, innovative technologies makes him a perfect fit for ETwater.
Novato, CA (PRWEB) November 19, 2013
Novato, CA-based ETwater, the leader in smart irrigation control and water management solutions, today announced it has welcomed Lee Williams as Senior Vice President of Product. With a track record of producing innovative and breakthrough technology products and services, including some of the industry's first tablets and smartphones, Williams' arrival at ETwater adds deep technology and product expertise along with proven leadership skills. This positions the company for accelerated product innovation and continued growth.
With an extensive background in software, mobile technology, product development, and operating systems, Williams brings experience from many leading companies, including Nokia, Symbian, Be, Symbol, and Palm among others. According to Williams, his decision to join ETwater was driven by his desire to apply his technology, product and organizational skills to rethink how we address the huge environmental and business challenges posed by water scarcity. In his words, "I have spent my career focused on taking computing and connectivity services to the next level, disrupting markets by delivering new experiences in the form of products. Joining ETwater was the perfect opportunity for me to do this in an area where I have a lot of interest and passion, and to work with a team whose interests and vision align with mine. This sector is ripe for major change and is poised for dramatic growth, and I look forward to being a part of that."
According to ETwater CEO Pat McIntyre, "As the company continues to drive significant growth and add new capabilities, we made the strategic decision to expand our leadership team with someone who has a strong technical background in mobile technology, software development, and operating systems, and who has a proven and clear leadership ability. Lee's track record for disrupting markets with new, innovative technologies makes him a perfect fit for ETwater. We are enthusiastic about his arrival and look forward to what it brings."
Williams has two sons and lives in Novato, CA where he enjoys outdoor adventures with his dog, Tiller. You can follow him on Twitter @leemwilliams.
About ETwater
ETwater is redefining smart irrigation for large scale landscapes with a full range of patented solutions for new installations and irrigation system retrofits. The company's innovative products integrate local weather data with cellular smart controllers to create and implement optimal daily watering schedules, producing water savings of 20-50%. The powerful, web-based ETwaterManagerTM aggregates key data from multiple sites, enables real-time management from any computer, tablet or smart phone, and delivers significant savings of water, time, money, and labor. ETwater is a private company based in Novato, CA, and manufactures in the U.S. For more information, please visit http://www.etwater.com.