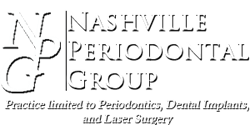 Nashville, TN (PRWEB) November 18, 2013
All month long, the doctors and staff at Nashville Periodontal Group are educating patients about the importance of effective gum disease treatment in Nashville, TN as part of their recognition of Diabetes Awareness Month. The link between diabetes and periodontal disease is a proven two-way street, making the maintenance of healthy gums an integral part of achieving overall optimal health.
When gums are infected with periodontal disease, bacterium is able to spread from the gums through the body. Naturally, the body works to fight this infection and, as a result of the body's response, blood sugar levels rise. If gum disease is left untreated, the rise in blood sugar level continues for extended periods of time. For people who already have diabetes, this can seriously compromise their ability to manage their disease and open them up to other problems including kidney damage, heart attack, eye damage or stroke. For non-diabetics, a continued elevation of the blood sugar levels puts them at greater risk for contracting gestational diabetes or Type 2 diabetes. This, therefore, opens these patients up to the same risks as all diabetics.
Nashville Periodontal Group offers leading gum disease treatment in Nashville, TN to help combat the problems associated with diabetes and maintain proper oral health. Early action when gum disease is first suspected is always best and the initial signs can include swollen, tender, red or even bleeding gums. As periodontal disease progresses, many other risks such as tooth loss, bone loss, and diabetes emerge.
The risk of periodontal disease among diabetics has been known for some time but research has only recently confirmed the reciprocal risk of contracting diabetes in the face of gum disease. Dr. Will Akin, Dr. Bill Akin, and Dr. Brian West lead their field with their use of laser gum surgery as an effective gum disease treatment in Nashville, TN. Proper oral health care at home and regular examinations and cleanings are also integral components to keeping gums healthy. Patients interested in learning more about how they can reduce their risk of either contracting diabetes or complicating existing diabetes should call Nashville Periodontal Group during this November Diabetes Awareness Month.
About The Doctor
Nashville Periodontal Group is a periodontal practice offering personalized dental care for patients in Nashville, TN. Drs. Akin and Dr. West are part of one percent of dental professionals providing the LANAP FDA cleared laser procedure for gum disease treatment. Along with laser dentistry they have a strong focus on patient education on maintaining dental health. To learn more about Nashville Periodontal Group and their dental services visit their website at http://www.nashvilleperio.com and call (615) 800-3686.