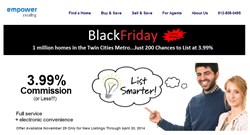 With just a few clicks of a mouse on Black Friday, consumers can lock up savings amounting to many thousands of dollars
Minneapolis, MN (PRWEB) November 19, 2013
Empower Realty, the industry's first online real estate brokerage, announced today that it has created a one day only Black Friday promotion for home sellers. By paying $49 through its website on Black Friday, homeowners who anticipate putting their home on the market between now and spring 2014 can reserve the right to enter into a full service listing agreement with Empower Realty at a commission of 3.99%. The offer is limited to the first 200 who register beginning at 12:01 AM, Friday, November 29.
"With just a few clicks of a mouse on Black Friday, consumers can lock up savings amounting to many thousands of dollars," said Jim Lesinski, CEO & Principal Broker of Empower Realty. "Given that there are about one million homeowners in the Twin Cities and many are still stinging from the housing crisis, we anticipate this deal will go quickly."
An owner of a $250,000 home who chooses to list in connection with Empower's Black Friday promotion can expect to pay $5000 less in commission than what is often paid to traditional real estate firms. In addition to substantial monetary savings, each homeowner will receive three independently-performed home valuations plus the many benefits of paperless deal-making. Empower Realty is the only real estate firm in the country that enables its sellers to receive electronic offers, setting its listings apart from conventional brokerages and appealing to today's tech-savvy buyers.
"Just as every retailer tries to get the jump on holiday shopping, Black Friday presents a unique opportunity for us to get a leg up on competing brokers for the coveted spring listing season," said Lesinski.
Complete details of the offer can be found at EmpowerRealty.com. Empower Realty is a licensed real estate broker in the state of Minnesota. "Realtor" is a registered trademark of the National Association of Realtors.
About Empower Realty
Empower Realty is a full service residential real estate firm that uses technology to lower the cost of buying and selling real estate. Buyers who contract with Empower for the purchase of a home benefit from the power of the internet and also receive a commission rebate at closing on eligible properties. Sellers receive full service listing support and electronic convenience at significantly reduced commission rates relative to conventional real estate firms. Empower Realty is a wholly-owned subsidiary of DealCurious, LLC which is currently seeking accredited investors under Rule 506(c).