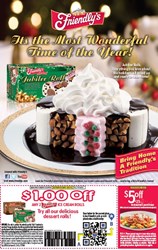 It's almost as if we take consumers by the hand and walk them to your door,
Summit, NEW JERSEY (PRWEB) November 20, 2013
PlaceCodes, Inc. today announced that its mobile-mapping technology has been incorporated into a new national marketing program for Friendly's packaged ice cream. The promotion delivers scannable PlaceCodes to millions of households, allowing consumers to use their mobile devices to quickly and easily obtain directions to the closest Friendly's restaurant or retailer stocking its popular Jubilee Ice Cream Roll.
David Ingerman, Co-Founder of PlaceCodes, explained, "The campaign delivers a coupon offer with embedded turn-by-turn directions designed to bring consumers one click closer to their nearest Friendly's restaurant or any one of the dozens of supermarket chains stocking the Friendly's Jubilee Ice Cream Roll."
"When a consumer wants to buy ice cream, we want them to find a Friendly's ice cream retailer as fast as possible," said Tim Hopkins, Executive Vice President, Retail and Manufacturing at Friendly's. "Partnering with PlaceCodes helps us highlight our expanding list of retail distribution partners--and supply the customized directions they need to access our latest product offers."
PlaceCodes' mobile mapping technology will also provide Friendly's valuable geo-based analytics. "We've created a MasterCode for the Friendly's brand, plus site-specific codes for all of their locations included in this promotion," said Ingerman. "Consumers can use any mobile device to click, tap, or scan and get instant turn-by-turn directions to the nearest Friendly's."
The Master Code for Friendly's U.S. restaurant locations and retailers can be found at: http://www.placecodes.com/Friendlys.
Turn-Key Solution for Businesses
The mission of PlaceCodes is to make it easy for businesses to drive consumers to physical locations and capture back-end data by providing a turn-key solution, explained CTO and Co-Founder, Jude Huang, "Businesses simply provide us their locations and we provide PlaceCode links that can be shared via email, social media, or the web. We even provide scannable QR codes for use in printed media, coupons, posters, and bus shelters."
PlaceCodes also offers marketing solutions that deliver real-time, location-based promotions to create "impulse" opportunities for mobile marketers.
Follow the Green Dot
Using its unique, patent-pending technology, the PlaceCodes interactive map leads the consumer to a specific location by displaying a blinking "green dot" that instantly turns red if the user begins to travel in the wrong direction. "It's almost as if we take consumers by the hand and walk them to your door," said Ingerman.
Calendar-Based PlaceCodes
PlaceCodes also demonstrated a calendar-based mobile service on social media during the recent New York Comedy Festival to help attendees find their way to every performance. This solution allowed users to easily access individual shows based on either location or the order in which they occurred.
While PlaceCodes.com is optimized for use on mobile devices, PlaceCodes can be created and shared via any web-enabled PC, tablet or mobile device.
About PlaceCodes
PlaceCodes is a privately held company formed in 2012 that provides the simplest way to share location information. Anyone can create a customized code for any place on earth with a unique, easy-to-remember name. Recipients can click, tap, or scan a PlaceCode and get instant turn-by-turn directions from wherever they are. Our Business Solutions make it easy to drive customers to physical locations and capture back-end data.