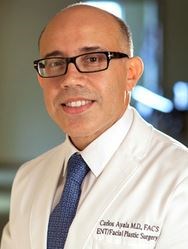 TriPollar RF is a great non-surgical treatment for tightening, rejuvenating the skin and getting rid of fat in certain hard to treat areas of your body.
Edinburg, TX (PRWEB) November 19, 2013
Ayala ENT & Plastic Surgery is now offering TriPollar RF + LumiCam, the latest innovation in both radio-frequency and thermal imaging technology on the market, ensuring accuracy and clarity with every skin tightening, body contouring and cellulite treatment. The combo is a non-invasive procedure, extremely efficient and delivers immediate, visible results with no pain from the very first treatment.
U.S. clinical study shows 100% satisfaction rate for safe and effective procedure. TriPollar is the most advanced radio frequency technology on the market and is newly available in the U.S. via a device called the Apollo, which is internationally touted for its effective and painless treatment of sagging skin, wrinkles, cellulite, circumferential reduction and the ability to tone and tighten skin of both the face and body.
The treatment is completely painless and safe, and is effective on all skin types and colors. Patients can expect to benefit from both visible immediate and long-term results. The immediate effects include a smoother, tightened appearance and texture of the skin. Most individuals realize the desired outcome at the conclusion of a full treatment course— a recommended 6-8 sessions with a noticeable reduction in wrinkles and fine lines, body contouring and lifting of the treatment area, and improved tone and texture.
Although the Apollo powered by TriPollar RF is FDA cleared for the non-invasive treatment of mild to moderate facial wrinkles, the 30-minute, no-downtime procedure is CE approved for circumferential reduction and the reduction of cellulite and has become the treatment of choice internationally for these currently off-label non-invasive body contouring applications.
The safety and efficacy of TriPollar RF treatments have been proven in multiple clinical studies and published in nine peer reviewed articles. A recent U.S. clinical study showed a 97% improvement following a full series of treatments, and 100% of the patients reported that they were satisfied with their results.
"TriPollar RF is a great non-surgical treatment for tightening and rejuvenating the skin and getting rid of fat in certain hard to treat areas of your body," says Dr. Ayala of Ayala ENT & Plastic Surgery. "We are very excited to offer TriPollar to our patients. Unlike other tightening devices on the market, TriPollar is truly unique in that we can treat any part of the body from head to toe. TriPollar will be a great adjunct to people who already live a healthy lifestyle and looking to reduce circumference in certain body areas and desire a more youthful appearance".
Ayala ENT & Plastic Surgery is located at 2821 Michael Angelo Edinburg, TX 78539. For more information, contact Business Manager Yvonne Flores at (956) 661-8200 or visit http://ayalaentfacialplasticsurgery.com.
For additional before and after images, please visit http://www.pollogen.com/ba.html.
About: Ayala ENT & Plastic Surgery
Dr. Ayala is Double Board Certified in Otolaryngology and Facial Plastic Surgery, and Board Eligible in Sleep Medicine. Dr. Ayala retired from the USAF and is now practicing ENT and Facial Plastic Surgery in the Rio Grande Valley, TX. Dr. Ayala serves the needs of a tremendously underserved population and demonstrates his ongoing commitment to those most in need, and his ongoing pursuit to simplify the beauty in all of us. Dr. Ayala specializes in Revision Rhinoplasty, Rhinology, Balloon Sinuplasty, Blepharoplasty, Otoplasty, Facial Plastic Surgery, Voice, Allergy, and Sleep Medicine.
About Lumiere Medical
Lumiere Medical, the premier U.S. distributor of innovative, science-based, clinically validated technologies presents new revenue opportunities for its customers while providing results which consistently deliver high patient satisfaction. Lumiere Medical is the exclusive distributor for Pollogen Ltd., offering the world's most advanced technologies to the US Market. The new devices offer safe and effective anti-aging treatments with both immediate and long-lasting results.
About Pollogen
We believe in thinking differently. We believe in constantly challenging ourselves to create the most advanced, effective medical aesthetic technologies and solutions.
In everything we do, Pollogen takes a customer-centric approach by making our products user-friendly, safe and convenient. At Pollogen there is no such word as "done"; we continually perfect our services so that our solutions provide treatments that are pleasant and effective. We believe in finding ways to develop technologies that work with the body's natural mechanisms so beautiful results are generated from within.
Pollogen is the developer and manufacturer of five revolutionary technologies under the industry premier brand names OxyGeneo™, Hybrid Energy™, TriPollar®, TriLipo® and TriFractional™.
We offer a full line of clinically-proven, safe and effective, non-invasive anti-aging facial and body contouring treatment platforms for a wide range of aesthetic applications. Pollogen provides solutions for professionals in over 60 countries, addressing the specific needs and dynamic changes unique to the ever-evolving aesthetic industry.