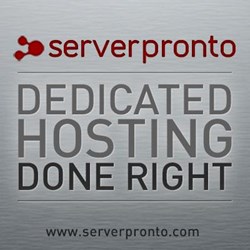 "With our Hybrid Server, you get all of the functionality and flexibility of the cloud without the shared resources." -- Chris Kurzweg, CEO of ServerPronto
New York (PRWEB) November 20, 2013
ServerPronto, home to the world's most affordable dedicated server and cloud hosting solutions, is rolling out a new service to meet the needs of customers looking to tap into the advantages of both physical and virtualized servers. ServerPronto is now offering Hybrid Servers.
Sometimes called hybrid hosting or smart servers, ServerPronto's Hybrid Servers offer a combination of a bare metal physically-hosted server with virtualization technology. Smart servers are a new breed of dedicated servers that offer the best of two worlds: traditional dedicated servers and flexible cloud computing.
"ServerPronto's Hybrid Servers will run a virtualized environment on a fully dedicated server," said Chris Kurzweg, CEO of ServerPronto. "With our Hybrid Server, you get all of the functionality and flexibility of the cloud without the shared resources. That means you can reboot, reimage, boot from a CD, view the console, and power on or off—all from our custom control panel."
Hybrid hosting offers you a fully customizable platform so you can mix-and-match your compute environment, and build more seamless server clusters with scalability and security in mind. This environment is highly portable, allowing customers to upgrade to larger servers in minutes. ServerPronto offers Linux, and Windows smart server options, as well as options for Solid State Drives and 15k SAS drives, RAID, Gigabit port, dedicated firewall, fully managed backups and more. The Hybrid layer along with a customer control panel will be provided at no additional charge to customers who desire the service.
"ServerPronto is bringing the same affordability and reliability to the hybrid server world that we introduced to the dedicated server and cloud hosting world," Kurzweg said. "The cost savings of smart servers combined with the cost savings of ServerPronto helps you drive more ROI on your technology spend."
About ServerPronto
ServerPronto currently has customers in 130 nations. ServerPronto, the hosting Subsidiary of Infolink, has been leading a low-cost revolution in the hosting industry since 2003. ServerPronto has broken the price barrier for cloud hosting in secured and reinforced Data Centers with redundant power, lightning fast fiber connections, and 24x7x365 support from a staff with more than 14 years of experience in operating data centers. Learn more at http://www.serverpronto.com.