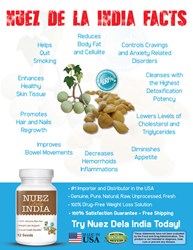 Waiting in lines for black Friday will not burn calories, but Nuez de la India will!
Pompano Beach, Florida (PRWEB) November 21, 2013
Nuez de la India will be preparing for the holidays early with the launch of upcoming Black Friday specials exclusively with Amazon.com. During Thanksgiving Weekend, from November 29 through December 2 also known as Cyber Monday, Nuez de la India will be discounting its packages from $14.99 to $9.99.
To purchase Nuez de la India, discount-seeking customers should visit Amazon.com (link: http://amzn.to/17tyTBN) beginning November 29. The number one weight loss additive for women and men contains 12 seeds, and gift-wrapping services are also optional.
Nuez de la India is 100% all natural and is drug-free, and adults take 1/4 of seed per day, before bedtime, for maximum weight loss. Nuez de la India has been shown to clean and detox the system, reduce cellulite, prevent and treat hypertension, alleviate some of the symptoms of arthritis, cure hemorrhoids and constipation, and it can even be used as a smoking cessation aid. Nuez de la India has also been credited with reducing cholesterol absorption, as well as reducing the user's appetite. The weight loss benefits of Nuez de la India are well known throughout South America. Nuez de la India is a very strong product with powerful results.
About Nuez de la India
Nuez de la India is the Number 1 weight loss natural additive for women and men, manufactured with the highest Quality Nuez de la India Available, imported from South America, Quality-controlled and Packaged in the USA
For more information, visit http://www.nuez-dela-india.com/.