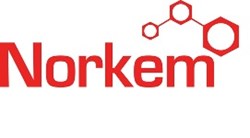 (PRWEB UK) 20 November 2013
Norkem, a leading supplier of food ingredients, will be sending a number of staff to the FIE event in Messe Frankfurt, Germany this year. FIE is Europes leading trade event for food additives and ingredients.
Over 26,000 attendees from 140 countries are expected to attend the FIE event.
Running alongside the event is the official FiE conference which is held right next to the show floor. This year's enhanced programme offers a choice of 20 conference modules and 3 master classes which will focus on the hottest topics in the F&B industry today – from top trends and leadership to functional ingredients, natural sessions and reformulation.
Norkem supplies a comprehensive range of products to the food and drink sector. They are a leader in the field of food additive supply, and distribute their full range of products internationally.
The event will be attended by Food Sector Product Manager Jonathan Wiper and Sales Executive Elliott Evans. Delegates will be able to discuss a wide range of ingredients and flavourings and obtain further information on the creation of bespoke liquid blends tailored to individual needs.
Norkem currently supply products into the following areas:

Soft drinks, alcoholic drinks, ciders and general beverages
Bread, cakes, biscuits and baking
Sweets, chocolate and confectionery
Sauces, condiments and mayonnaises
Flavours and Fragrances
Seasonings and coatings
Fruit, salads and vegetables
Meats, Fish and Crustaceans
The FIE event is running from 19th to 21st November 2013 at Messe Frankfurt Germany.
About Norkem
Norkem are a major global stockist, distributor and producer of high quality speciality and general chemicals including unique solutions for the food industry.
Privately owned, Norkem was established in 1970. With a head office situated in the United Kingdom and other offices located in The Netherlands, Spain, Chile, USA, Australia and China. We also have production facilities in the UK, Belgium, Spain and Australia.
For more information visit http://www.norkem.com/products/category/food-and-drink.