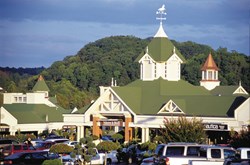 Find shopping oases in each region of the state.
Nashville, TN (PRWEB) November 20, 2013
The holidays have finally arrived and Tennessee's local artisans, boutiques, and outlet malls are gearing up for the day after Thanksgiving to ring in the holiday shopping season. Guests can find shopping oases in each region of the state, including the state's largest outlet mall, a boutique that only carries six of each item, and plenty of made-in-Tennessee products. Below are a few shopping destinations visitors will want to check out for the holidays and year-round.
EAST
Find local, handmade treasures at the Appalachian Arts Craft Center in Norris, Tenn. Pottery, jewelry, quilts, knitted items, carved sculptures and much more can be found in the store. Started in 1970 in the back room of an old grocery store, the center is a non-profit that supports high-quality artwork. The Appalachian Arts Craft Center can also be found on the Appalachian Quilt Trail, one of the country's most scenic ways to experience rural life. The center's Holiday Open House is held the weekend after Thanksgiving, offering holiday goodies and gift-giving ideas.
Sevierville is famous for shopping as it is home to two of the largest outlet malls in the area, antique malls, boutiques, specialty stores and more. Guests have some great "shopportunities" at the Tanger Five Oaks Factory Outlet Center, the largest outlet center in the state which houses name brands like Tommy Hilfiger, White House | Black Market, Ann Taylor and Banana Republic. Tanger will host its Moonlight Madness & After Thanksgiving Sale with the stores opening at 10 p.m. Thanksgiving night. Your Scrapbook Super-store, the scrapbook store with the largest inventory in the U.S., Bass Pro Outdoor World and Orvis Company Store can also be found in Sevierville.
Warehouse Row in Chattanooga is a destination shopping center for the Southeast featuring boutique fashion. Guests can take a breather from holiday shopping by dining at one of the fine restaurants. Artisanal goods, fashion brands and even museums can be found in the Warehouse Row. Stores include Rhinoceros Boutique, featuring women's fashion with a French and Los Angeles twist; Embellish, which carries a variety of shoes, handbags and accessories and has a private showroom where trunk shows are conducted; and REVIVAL that has an assortment of antiques, luxury gifts, home furnishings and much more.
MIDDLE
Opry Mills in Nashville, Tenn. is Tennessee's largest outlet, value retail, shopping, dining and entertainment destination. The indoor mall boasts 200+ stores which include J. Crew, Vera Bradley, Bass Pro Shops, Forever 21 and Saks Fifth Avenue OFF 5TH. Opry Mills guests can take a break from the holiday hustle by dining "under the sea" at Aquarium Restaurant or "in the deep jungle" of Rainforest Café. The shopping destination will be open 8 p.m. Thanksgiving night until 9 p.m. Black Friday, Nov. 29.
Slow the rush of holiday shopping with a stroll along the 16-block National Register district of downtown Franklin, Tenn. which is 14 miles from downtown Nashville. Travel + Leisure recently named Franklin "8th Best Town in the Nation" and it's easy to see why. With antique shops, gift stores, boutiques, restored homes and art galleries that flank both sides of the streets, guests have lots of choices when choosing holiday gifts. With holiday decorations in store windows and on historic homes, guests will think they stepped back to a simpler time. Stores include Franklin Antique Mall, LLC; Avec Moi, that houses beautiful antique jewelry and other items; Anthropologie, with its artistic, fashionable selections; and Good Findings which has beautiful accessories like costume jewelry, handbags, scarves and more.
Gift loved ones natural bath and body products made by Thistle Farms in Nashville, Tenn. The farm employs more than 40 Magdalene residents and graduates and is a social enterprise with products in more than 200 stores in Tennessee and across the U.S. Pick up the Love Heals soy candle, the earth-friendly candle that is also vegan. The body polish combines cocoa and shea butters with wheat germ oil for a lovely exfoliate. These products along with perfumes, lip balms, books, bath products and more are available for purchase. Thistle Farms was started by the Reverend Becca Stevens and also includes a paper and sewing studio and the Thistle Farm Café.
WEST
Give the beautiful gift of Tennessee Pewter, the South's Pewter Company in Somerville, Tenn. Started in 1973, Tennessee Pewter specializes in hand-crafted and hand-finished fine art pieces like vases, dining ware, bowls, pitchers, and Christmas ornaments. The pewter is 100 percent lead-free and has been featured in magazines like Southern Living, Garden & Gun, At Home Tennessee, Tennessee Home & Farm and others. Shoppers can gift gorgeous Tennessee-made pewter Nativity sets, cross pendants, bracelets and more. The store is open Tuesdays through Saturdays.
Stroll the streets of the quiet Collierville Historic Town Square in Shelby County, Tenn. Guests will find boutiques, antique stores, and specialty shops. An old-fashioned gas station and hardware store also contribute to the charm of the town square. The square is also home to the Train Museum, a restaurant where patrons dine in a restored train car. Check out Carriage Crossing, a pedestrian-friendly center which features shopping, dining, a children's park, music and more. Collierville is 30 minutes from Memphis and is a historically rich shopping oasis.
Memphis, Tenn. features boutiques and shopping centers like the Laurelwood Shopping Center which has specialty stores like King Furs and Fine Jewelry, James Davis Fine Jewelry Boutique, Davis-Kidd Booksellers, Dinstuhl's Candies, Talbots, and many more. Dazzle can be found in Germantown which features beautiful women's jewelry and other accessories. Sharp eyes and quick hands are needed to shop in Eye-con Couture. The women's boutique only stocks six of each item and doesn't repeat styles. Trendy clothing, handbags and a selection of vintage clothing can be found in the boutique on Union Avenue.
While this is a sampling of the shopping destinations located in the 95 counties of Tennessee, there are many more, ranging from quaint shops to hundreds of brands found in malls which give visitors great variety for all their holiday needs. For a thorough list of shopping destinations, visit http://www.tnvacation.com/shopping.
# # #
Explore more at tnvacation.com and join other Tennessee travelers by following "TNVacation" on Facebook, Twitter, Pinterest, Instagram and YouTube.