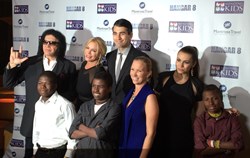 'I don't have the right NOT to give back and neither do you.' - Gene Simmons
Montrose, CA (PRWEB) November 19, 2013
In a star-studded event that has collectively raised an estimated $800,000, Mending Kids International (MKI) honored its many heroes November 9, 2013 at the "Wings Around the World African Safari Gala". MKI partnered with celebrities and corporate sponsors for a successful evening which as a result will provide over 300 children with vital surgical health care. The packed event program included a cocktail Travel Lounge, wine pull, African Safari raffle, dinner, awards, live performances, and a live auction. Montrose Travel Corporate Services, who has worked with MKI for the past 5 years as a business partner and volunteer for local Los Angeles missions, took their partnership further, becoming an executive sponsor of the event's "Travel Lounge" and African Safari travel raffle. Montrose utilized their supplier relationships and worked with African Travel to set up an 8-day safari journey giveaway to a lucky attendee. "It was an honor to be able to help such a wonderful cause. We have worked with Mending Kids and Executive Director Marchelle Sellers on a client-level for many years, and to be able to provide a product that helped raise additional money at their event was something we were happy to do," stated Aash Shravah, Director of Corporate Sales for Montrose Travel.
Among the honorees at the gala included Gene Simmons, his wife Shannon Tweed-Simmons and their two children Sophie and Nick Simmons. The family received the "Mend Award" for their dedication and generosity to the MKI organization and overall humanitarian efforts across the globe. In a testament to his philanthropic efforts, Gene recalled his own difficult childhood and stated, "I don't have the right NOT to give back and neither do you." Other MKI heroes were honored throughout the evening, most notably Sydney McDonnell, who received the "Hope Award" for hosting over 13 MKI children, giving them a home and pre- and post-surgery care. Mike Taka, Senior VP of Domestic Sales for Warner Brothers Home Entertainment, received the "Love Award" for his work and corporate support of the organization's overall development. The last award was the "Teen Leadership Award" which was given to three local Malibu, CA teens who raised over $50,000 for MKI this last year.
As their second annual gala, "Wings Around the World" was also attended this year by stars such as Mel Gibson, a long-standing supporter, Simon Baker, Mark Dacascos, Greg Louganis, Harvey Leven, Nia Peeples, and Dorothy Lucey; appearances that help reach a broader audience of supporters. The generous actions of the attendees and sponsors is an example of how individuals and strategic partners coming together for a higher purpose. With 92% of every dollar received going directly towards helping children, the success of the event will help Mending Kids International break new records of children served going into 2014.
For the last 30 years, Mending Kids International has provided life-changing and life-saving surgical care to children worldwide. Their continued efforts has dramatically helped over 1,200 children in 54 countries on several continents including Africa, Southeast Asia, Central and South America, as well as the United States. The celebrated organization also offers training and research to local communities creating self-sustaining surgical programs so that local surgeons and hospitals can continue to save lives. For more information on Mending Kids International and how you can help, please visit http://www.mendingkids.org.
About Montrose Travel Corporate Services
Celebrating 56 years in business, Montrose Travel, a family-owned travel management company, has grown from 14 employees in 1990 to more than 200 today and is now firmly established as a Top 50 Travel Management Company with sales exceeding $180 million. Montrose Travel Corporate Services strives to provide the highest quality services and most complete corporate travel solution for its customers. Montrose Travel "will be here tomorrow to back up our promises of today!" Visit Montrose Travel's Corporate Services at http://www.MontroseCorporateTravel.com or call 1-800-766-4687. CST#1018299-10