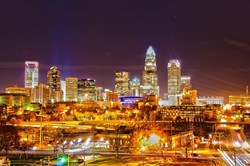 We are very excited to start competing in the great city of Charlotte!
Jacksonville, FL (PRWEB) November 20, 2013
R2 Logistics, Inc., a Third Party Logistics service provider, today announced it will be opening a sixth operating branch in the Charlotte metro area on February 1, 2014. Potential office space is currently being chosen by company President and CEO, Ben Gase.
Current R2 Logistics employees will be evaluated first to fill the Charlotte management positions. The branch will open with three or four employees with the outlook of growing to 15 or 20 employees in the next three to four years. Applications are currently being accepted to fill future positions in Logistics Sales.
"We are very excited to start competing in the great city of Charlotte," stated R2 Logistics President and CEO, Ben Gase. "Cold starts are a major part of our long term growth strategy. Our expectations for this branch are the same as they have been for all of our offices; grow organically and be profitable in one year's time."
About R2 Logistics, Inc.
R2 Logistics, Inc. is a Third Party Logistics company named one of Forbes magazine's America's Most Promising Companies and headquartered in Jacksonville, Florida. The company works with over 20,000 transportation providers nationwide. R2 Logistics delivers industry-leading services through five primary operating branches. These branches focus primarily on full truckload transportation, as well as services including less-than-truckload (LTL), expedited freight, intermodal, certified hazardous material, specialized hauling and supply chain management. For more information about R2 Logistics, visit http://www.r2logisticsteam.com.