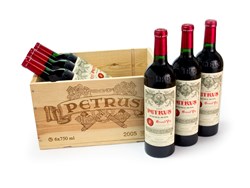 This collection comes from an established surgeon whose cellar is a testament to everything being bigger in Texas.
San Francisco, CA (PRWEB) November 20, 2013
Benchmark Wine Group has purchased a collection of highly sought-after fine and rare wines from an established Texas surgeon. The wine lot is its first cellar released featuring only the top producers in the world. The leading wine ecommerce website will sell the blue chip wines ranging in price from $250 for a bottle of Carruades de Lafite to $12k for a 6-pack of Château Petrus stored in the original wooden case.
"We're honored the collector chose Benchmark Wine Group to sell these remarkable wines," says David Parker, CEO of Benchmark Wine Group. "He has impeccable taste and wanted the wines to be savored by wine enthusiasts, not sit in a cellar adorning the walls."
With the addition of the 800-bottle collection, the Napa-based company will tout rare verticals of Domaine de la Romanée-Conti, First Growth Bordeaux, Château Petrus and Château Le Pin in its 25,000-bottle cellar. From the highly-rated Château Margaux 2003 to La Tâche DRC, there are several collector wines in this cellar.
For example, Château Mouton-Rothschild has been commissioning the world's greatest artists since 1946 to design its wine labels. The only exception is the unusual gold-enamel bottle for 2000, purchased in this collection. Twice in the history of the artist labels, there have been two used for the same year. The 1993, also featured in this cellar, is one of those years. The United States rejected the original label of a nude nymphet designed by French painter Balthus, so Château Mouton-Rothschild created a blank space where the image should have been.
All wines have been inspected by the Benchmark Wine Group acquisitions team and are provenance guaranteed, as its standard business practice outlines. The bottles can be traced back to the original purchase source and many are in original wooden cases. Most wine bottles or wine cases were purchased upon release directly from the winery or from well-respected auction houses. Since purchase, the wines have been stored in an above-ground wine cellar with temperature and humidity control.
It's not every day that such fine and rare wines become available. So go big, or go home and browse the collection today!
About Benchmark Wine Group:
Established in 2002, Benchmark Wine Group acquires and sells fine and rare wine to and from retailers, restaurants and collectors. The premier online source for the world's top wines at market leading prices – Lafite, Petrus, Leroy, Krug, Sine Qua Non and Opus One – just to name a few! The Napa-based company draws on decades of collective wine industry experience to obtain the most sought-after wines in the world from private individuals and professional contacts. Benchmarkwine.com offers 24-hour access to the 25,000-bottle wine cellar, displaying inventory in real-time.