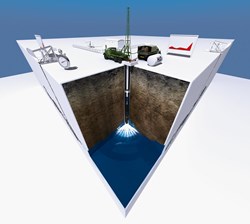 We are truly privileged and humbled to have received the Chairman's Innovation Honorable Mention Award at Total Energy USA yesterday
Houston, Texas (PRWEB) November 20, 2013
Propell Technologies Group Inc., (OTCQB: PROP) yesterday was presented with Total Energy USA's Chairman's Innovation Honorable Mention Award at the Total Energy USA conference in Houston, Texas.
Propell Technologies Group, Inc (Propell) received this award at the close of the first day of Total Energy USA's 2013 Conference. Propell is at the conference showcasing its proprietary "Plasma-Pulse Technology" which is designed to enhance the recovery of oil. Propell by way of their wholly owned subsidiary Novas Energy USA is the exclusive licensee of this patented technology for use in the United States. The downhole tool and subsequent well treatment has been attributed with increasing oil production and injector well fluid flow in over 200 wells in Eastern Europe and over 20 wells in the United States. It does so without any chemicals and therefore is deemed to be environmentally friendly. The treatment clears the well drainage area of sedimentation clogging at the perforation zone and increase the permeability of the reservoir at the same time, resulting in increased oil recovery.
Later this week Propell will be presenting its exclusively licensed Plasma Pulse Technology at the Undiscovered Equities Fall Conference in Boca Raton, FL on November 21st. More information on the conference is available at http://www.smallcapconferences.com/.
"We are truly privileged and humbled to have received the Honorable Mention Award at Total Energy USA yesterday and we are excited to present again at the Undiscovered Equities Conference later this week. When we presented to Undiscovered back in March we had not treated any wells in the United States. Now we have actual results from approximately 20 wells in the U.S. to present," expressed John W. Huemoeller II, President of Propell and Novas Energy USA.
About Propell Technologies, OTC Markets: PROP. – Through its wholly owned subsidiary Novas Energy USA, Propell is the exclusive licensee of patented "Plasma Pulse" technology in the United States, which has been shown to significantly improve existing well recovery and production volumes. For more information, visit http://www.propell.com or call 713-227-0480, 1701 Commerce Street, Houston, Texas 77002.
SAFE HARBOR STATEMENT
This news release contains forward-looking statements within the meaning of the Safe Harbor Provisions of the Private Securities Litigation Reform Act of 1995. These forward-looking statements are often identified by the words "believe," "anticipate," "expect," "intend," "estimate," and similar expressions. All statements in this document regarding the future outlook related to Novas Energy USA and Propell are forward-looking statements, including but not limited to the initial results from the treated wells and the timing and release of future data. Such statements are based on the current expectations, beliefs, estimates and projections of management and are subject to a number of risks and uncertainties that could cause actual results to differ materially from those described in the forward-looking statements including the risk that the future data will not be as favorable as the initial results. Additional uncertainties and risks are described in our most recently filed SEC documents, such as our most recent annual report on Form 10-K and quarterly report on Form 10-Q. For a more detailed discussion of factors that affect Propell's operations, please refer to the Company's Securities and Exchange Commission filings. Copies of this filing are available through the SEC website at http://www.sec.gov. All forward-looking statements are based upon information available to us on the date hereof. Propell undertakes no obligation to update this forward-looking information.