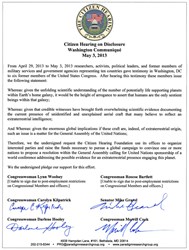 Foz do Iguaçu, Brasil (PRWEB) December 04, 2013
PRG executive director Stephen Bassett spoke here at the Fifth World UFO Forum (II IUFOZ 2013) on November 22. The principal focus of his address was the launch of a multi-nation joint resoluiton initiative to the United Nations General Assembly. This initiative seeks a UN backed world conference addressing the full spectrum of evidence pointing to an extraterrestrial presence (non-human intelligence) engaging the human race.
In his presentation Mr. Bassett proposed Brazil as the appropriate nation to lead a coalition of South American countries to participate in writing and submitting such a resolution to the General Assembly. While in country he met with researchers and activists regarding how to move forward on this proposal.
The United Nations initiative will be supported through the Citizen Hearing Foundation (CHD). The CHD was formed in the aftermath of the Citizen Hearing on Disclosure conducted at the National Press Club in Washington, DC, April 29 - May 3. On May 3 a communiqué signed by four former members of the U. S. Congress was issued calling on PRG to set up a 501c(3) non-profit for the purposes of pursuing a world conference via the United Nations.