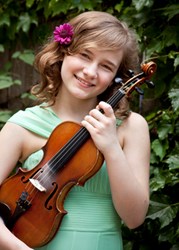 "I've been captivated by Camerata Chicago performances, and am pleased to be able to support and bring attention to incredible young musicians through the Rising Star Series." - James Scharnell
Lake Barrington, IL (PRWEB) November 22, 2013
An acclaimed 12-year-old violinist who is capturing the attention of the classical music world will be introduced during a performance on Dec. 8 in the Chicago northwestern suburb of Lake Barrington.
The violin prodigy, Masha Lakisova, will perform at the Lake Barrington Shores Golf Club with musicians from the internationally acclaimed chamber orchestra Camerata Chicago in a string trio to benefit the orchestra's new educational program: The James A. Scharnell Rising Star Series.
Camerata Chicago's music director, Drostan Hall, will team up with Lakisova on the violin, performing the famous Violin Concerto for Two Violins by Bach.
Lakisova will continue with other violin favorites accompanied by her mother, accomplished pianist Lyudmila Lakisova. The concert will conclude with the artistry of jazz pianist Bartholomew Hall, who will travel from England to perform his own eclectic compositions.
The young Lakisova is the inaugural "Rising Star" in the new James A. Scharnell Rising Star Series. The series was founded by its namesake, a Lake Barrington Shores resident and president of Quality Catering for Kids, Inc., based in Lake Villa.
The series, in collaboration with Camerata Chicago, is designed to promulgate the careers of young musicians who demonstrate extraordinary world-class ability and accomplishment by giving them experience and exposure performing a concerto with a professional orchestra. The young Lakisova will perform the Violin Concerto in D Major by Mozart with Camerata Chicago in downtown Chicago in May of 2014.
"I've been captivated by Camerata Chicago performances, and am pleased to be able to support and bring attention to incredible young musicians through the Rising Star Series," Scharnell said.
Masha Lakisova, who began her violin studies at the age of 4, recently placed among finalists in the Louis Spohr International Violin Competition for Young Violinists in Weimar, Germany. She has won the highest awards in her division of the National Walgreens Music Competition, the Illinois Music Association Competition and the National Grandquist Swedish Days competition. She has been featured in live broadcasts on WFMT radio station in Chicago and performances at Carnegie Hall's Weil Concert Hall, The Chicago Cultural Center, Ravinia's Bennet-Gordan Hall and Pick-Staiger Hall at North Western University. In addition to Camerata Chicago, Lakisova has also been invited to solo with The Lake Forest Symphony next season.
A limited number of tickets are available for the black tie event, at $125. For ticket information, call the Lake Barrington Shores Golf Club at 847-997-8947.
Doors to the Lake Barrington Shores event open at 5 p.m. for a champagne reception, with music beginning at 6. A reception with capacious hors d' oeuvres will follow. The gathering will include a silent auction. Camerata Chicago is online at http://www.cameratachicago.org.