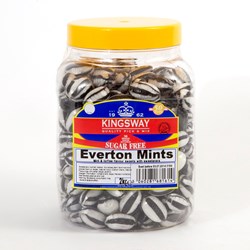 Enjoyed in moderation, sugar free sweets are a suitable substitute for sugary sweets among diabetics.
(PRWEB UK) 21 November 2013
Leading the confectionery wholesale market in the UK, confectionery specialist Hancocks has been offering a more health-conscious selection of sugar-free sweets for some time, noting accelerating growth during 2013. The Leicestershire confectionery wholesaler has an exclusively developed selection of sugar free sweets, which, according to Hancocks' Purchasing Director Jonathan Summerley can be beneficial to independent and specialist retailers, boosting their confectionery sales.
The rise in sales of sugar free sweets comes at a time when the number of people being diagnosed with Diabetes is also on the rise. For them, sugar free sweets are a sensible option, providing a treat without the sugar.
Summerley comments, "With Diabetes on the rise in the UK, it is perfectly understandable that these and other consumers will want to be more health-conscious when it comes to eating sweets. As a consequence, it is important that retailers consider adapting to these trends by stocking niche sugar free options. Certain shoppers, especially diabetics, will find these options particularly appealing. Enjoyed in moderation, sugar free sweets are a suitable substitute for sugary sweets among diabetics".
The amount of people diagnosed with diabetes has risen to a record three million people, according to charity Diabetes UK. Approximately, this equates to 1 in every 20 people, and this figure is only expected to steeply increase by the year 2025. In response to these alarming statistics, health organisations, such as the Department of Health in the UK, have stressed the need to improve diets in order to prevent growing diabetes rates.
Hancocks' range of sugar free confectionery, available both online and at the 20 Hancocks depots nationwide, is available to sell in either bulk jars or pre-packed into sharing bags. Sold under the company's Kingsway brand, the numerous sweets in the sugar free range include classics such as Chocolate Eclairs, Assorted Toffees, Fruit Drops, Sherbet Lemons, Rhubarb and Custards, Cola Bottles, and Pear Drops. Hancocks also packages this range of bulk sugar free sweets in lively yellow sharing bags, to ensure that they stand out as something a little different on the sweets shelf.
Summerley adds, "The increase in health awareness regarding diabetes means that the sugar free market will continue to grow as a specialist sector. Offering customers a good range of confectionery that also contains sugar free sweets will assure them of maximum choice from your store."
Also stocking Halal approved sweets in addition to sweets suitable for vegetarians, Hancocks have all dietary requirements covered amongst their already sizeable array of wholesale sweets.
Promising to deliver sweet supplies direct to business throughout the UK, Hancocks' sugar free range can be ordered online or across the UK in one of their twenty confectionery cash and carries. Simply visit http://www.hancocks.co.uk/ to browse Hancocks sugar free products. To find out more, send an email to info(at)hancocks(dot)co(dot)u], or call the friendly sales team on 01509 230796