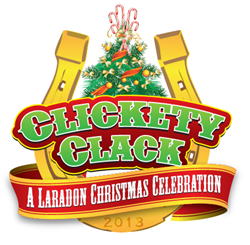 Denver, CO (PRWEB) November 21, 2013
In 1948 Joseph and Elizabeth Calabrese invested their life savings into the creation of a very special school - Laradon. Named after their two sons, Larry and Don, Laradon was the first charitable organization in the Rocky Mountain region to offer support, education and training to children with developmental disabilities. Today, 65 years later, Laradon is nationally recognized as an innovator of educational and training services for children and adults with developmental disabilities.
The Calabrese's knew that when provided with the proper education, training and support, people with disabilities could realize their full potential, contribute to the community and become valued members of society. "This vision is manifested in Laradon's culture and operating philosophy and is seen on the faces of the children and adults who are experiencing a life of inclusion, independence and success," stated Annie Green, Deputy Director.
Santa Claus and his reindeer are planning an early trip to Denver to help Laradon celebrate these achievements. "Clickety-Clack, a Laradon Christmas Celebration" will commemorate the past 65 years while raising funds to expand services for the next 65 years. Santa and his elves have assembled a unique array of silent auction items allowing people to get a head start on Christmas shopping. The celebration will include live musical performances from the Wild Coyotes, Mr. Kneel, the East High School Angels Choir, and the Bluebirds. Additionally, a lunch buffet will feature barbeque food and holiday favorites with special surprises for the youngest guests. Wear your favorite western-wear and join the festivities.
WHEN: December 7, 2013, Noon – 3:00 PM
WHERE: The Grizzly Rose, 5450 N. Valley Highway, Denver, CO
TICKET PRICES:
Kids 16 and under – $25.00
Adults – $50.00
Family of Four (two adults and two kids) – $125.00
Corporate Sponsorships Starting at $500.00
Open to the General Public
REGISTER ONLINE via http://www.LaradonClicketyClack.com
QUESTIONS: Please contact Annie Green at 720.974.6807 or annie(dot)green(at)laradon(dot)org
About Laradon: Laradon has been advocating for children and adults with developmental disabilities to receive equal educational, vocational and residential opportunities for 65 years. In that time, they have supported thousands of developmentally disabled individuals from all over Colorado through implementing programs, which encourage self-determination, inclusion and integration in the community. To learn more, visit http://www.laradon.org.