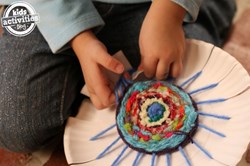 Homemade gifts are perfect for family and friends.
Dallas, Texas (PRWEB) November 27, 2013
Making a homemade gift kit is inexpensive and creates a lot of joy. Seasoned Moms are sharing a gallery of homemade gifts on Kids Activities Blog. Younger kids will get the same thrill from a homemade Mom made gift then from an elaborate expensive gift from the store. Do not forget that the best homemade gifts come straight from the heart.
If the child loves to be creative and wants to be actively involved in making a gift, a coaster kit will be a great gift. Supplies needed to make the cute coaster are a paper plate, some yarn, and a scissor. Cut one inch slits into the paper plate.
Wrap the largest yarn around the plate to create the spokes of a wheel. When the pattern is finished knot the wheel loom to itself. Taping it down will add extra security.
Alternate the scraps of yarn and weave around the paper plate wheel. Tell the kids not to pull too tightly. Once a nice coaster shaped circle has been created, gently pull out the paper plate and knot the ends together. The kids will be proud of the adorable coaster gift to family and friends
Young children especially will love a Mommy made gift. One year olds can be easily surprised and entertained with the Mom approved and kid tested ideas. Use strips of flannel to create a one of a kind blanket. Transforming an old sweater to make cute leggins for the baby may be just what he or she needs to do the first steps.
Cute taggie blankets are a lot of fun for the kids to touch, feel, and explore. Use a variety of textures and follow the simple tutorial to make one this season. Discovery bottles, texture cards, snuggly monsters, treasure baskets, book ideas, and DIY puppets are only a few of the great ideas for the perfect gift this season.
For detailed instructions and to get additional homemade gift ideas, check out Kids Activities Blog this week. Come get inspired to create special memories for years to come.
About Kids Activities Blog
Kids Activities Blog is a website created by two moms (who collectively have 9 children), Rachel Miller and Holly Homer from June Cleaver Nirvana. It is their daily goal to inspire parents and teachers to play with kids. This interactive website publishes simple things to do with kids twice a day. Kids Activities Blog is a great tool for moms and teachers to find kid-friendly activities that create memories and sneak learning into the fun.