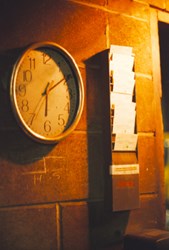 New enhancements available on the Time Tracker system include a Leave of Absence module, updates to the Mobile App, new dashboard features, and an Affordable Care Act module.
Duluth, Georgia (PRWEB) November 26, 2013
HR Strategies offers Time Tracker and Time Tracker Plus to their clients. This offering allows HR Strategies to meet the job costing, scheduling, and benefit accrual needs of clients, while easily tracking attendance and payroll hours.
New enhancements available on the system include a Leave of Absence module, updates to the Mobile App, new dashboard features, and an Affordable Care Act module. The Leave of Absence, or LOA module, is extremely important due to FLSA guidelines becoming more and more stringent. With the new Leave of Absence module, employers have the ability to enable and track Leave of Absence functionality within the system. Additionally, the management dashboard has been revamped and is available at no additional cost to employers.
HR Strategies already offers its clients the convenient Time Tracker Mobile App. The mobile app has many useful capabilities with three different interfaces. Employees can access their personal timesheets, request time off and view their time off balances, view their PTO calendar, and view the Dot Board. Managers can do all this with the addition of viewing employee lists, timesheets and schedules, and managers can approve time off requests right from the app. The enhancements are important as the world becomes more mobile. Users now have the ability to enter Extra Pay through the mobile app, at no additional cost.
Lastly, today's hottest topic of Health Care Reform is reflected in the newest enhancement to the time and attendance system. An Affordable Care Act (ACA) Module has been released. With all of the changes, it's so important for HR Strategies' clients to have a reliable state of the art way for managing one of the biggest employer hurdles of 2013. The ACA module add-on offers the ability to configure a company's ACA policy and track it on a per-employee basis.
HR Strategies is proud to be able to offer its clients such a technologically advanced array of web based time and labor management solutions. Regarding PPACA, HR Strategies also counsels its qualifying clients on everything they need to know regarding upcoming health care changes. The marketplace add-on is just one way that HR Strategies is able to prepare its clients for all things PPACA.
About HR Strategies
HR Strategies provides the customizable HR solutions (including but not limited to payroll, benefits, workers compensation, tax administration, regulatory compliance, HR consulting, training solutions) and expertise of a large corporation's personnel department in an affordable and effective solution. HR Strategies enables clients to reclaim time, stabilize and reduce labor costs, and stay compliant with government regulations.