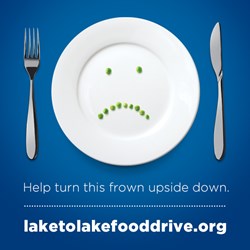 We know that this year, the Food Drive is going to make a difference again -- to provide for those who may not have otherwise been able to enjoy a holiday meal. - David Snodgrass, Lake Trust Credit Union President and CEO
Lansing, MI (PRWEB) November 21, 2013
Lake Trust Credit Union's 2nd Annual Lake-to-Lake Food Drive will begin on Friday, November 22 at all of the credit union's 21 branches throughout Michigan. The food drive kicks-off with 400 turkeys donated by FireKeepers Casino Hotel located near Battle Creek. The food drive will again help to fill pantry shelves at local food banks throughout Michigan for families in need during the holiday season. Last year, the Lake-to-Lake Food Drive brought in over 21,000 pounds of food.
"We're so grateful for the commitment we've seen in our communities; from our neighbors, members, partners and Team Lake Trust," said David Snodgrass, Lake Trust Credit Union President and CEO. "The time, effort and devotion from all of these people fed 25,000 families last year. That's incredible. And we know that this year, the Food Drive is going to be that difference again -- to provide for those who may not have otherwise been able to enjoy a holiday meal."
The Lake-to-Lake Food Drive has been recognized with the prestigious 2013 Dora Maxwell Corporate & Social Responsibility Award at both the state and national level, for extraordinary effort, devotion and time to its communities.
"The success of the Lake-to-Lake Food Drive will make a huge difference for so many people," said Keith Koppmeier, Lake Trust Credit Union director of corporate responsibility. "We're extremely proud of the effort's award recognition and very grateful for the FireKeepers Casino Hotel turkey donation. We are truly making an impact on hunger for many Michigan families in need during the holidays."
In addition to FireKeepers Casino Hotel, Lake Trust is partnering on the food drive with the Greater Lansing Food Bank, Feeding America West Michigan Food Bank, Food Gatherers, Gleaners Community Food Bank of Southeastern Michigan and Isabella Community Soup Kitchen, along with Two Men and a Truck.
To learn more about the Lake-to-Lake Food Drive, visit laketolakefooddrive.org.
The Lake Trust Credit Union Foundation is a 501(c)(3) dedicated to making a difference by volunteering time and resources to Michigan. The Foundation's mission is to bring people and organizations together to create strong, diverse, vibrant neighborhoods through sponsorships, grants and Team Lake Trust volunteerism. Learn more at laketrust.org
Lake Trust Credit Union is Michigan's fourth largest credit union with branches stretching from Lake Michigan to Lake Huron and Lake Erie. With more than $1.5 billion in assets, Lake Trust provides over 157,000 members with best-in-class products and offers individualized, trust-based member service. As a community-based credit union, Lake Trust strongly believes in supporting its communities and participates annually in Komen for the Cure® in Ann Arbor and Lansing, as well as nearly 100 events and causes annually throughout Michigan. Membership is open to anyone within its 35-county service area. Follow Lake Trust on Twitter @laketrust. Lake Trust is also on Facebook.