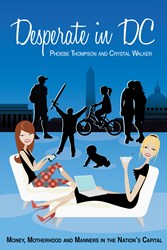 You would never imagine that two attractive, fit and preppy mothers would be the conduits to all that DC dirty laundry, and that's exactly the point.
Washington, DC (PRWEB) November 21, 2013
Announcing the highly anticipated release of Desperate in DC, the hilarious new blog-book that chronicles the exploits of two privileged and wickedly funny professional women in Washington, DC through their witty and often laugh-out-loud blog exchanges with one another. Readers can now view, purchase, and gift ebook copies of Desperate in DC online through Smashwords for only $1.99 – dollars less than your favorite cocktail.
Meet "Crystal" and "Phoebe" (pseudonyms for the authors, who understandably wish to fly under the radar), two city-life moms in Washington, DC tackling the challenges of modern motherhood, money, and marriage. Crystal is a DC employment attorney and mother of four while Phoebe is a public relations consultant and mother of two. The lively, lovely duo shines with their friendly fire, hilarious visuals, and clever conversation throughout this blog-style book. They joyfully skewer the power, wealth and status-hungry residents of the Washington DC metro area – while poking fun at the daily happenings of their own lives.
The anonymity of the writers' identities has provided them with the ultimate "fly on the wall" status, soaking up insider dirt in the usually buttoned-up and mysterious world of the Nation's Capital. You would never imagine that two attractive, fit and preppy mothers would be the conduits to all that DC dirty laundry, and that's exactly the point.
Desperate in DC shares stories of sex and social climbing, two fads not unique to Washington, D.C., but perhaps perfected there. The ladies shine a light on their own hijinks too, from sexting a complete stranger in order to get some computer work done, to the challenges of fulfilling one's "wifely duty" while dealing with kids, cars, and knucklehead husbands.
Desperate in DC is cleverly laid out; it's a collection of email and text exchanges, snarky community newsletters, and notes and pictures that add up to a very authentic, humorous take on life. Imagine if TV's "Real Housewives of DC" hadn't been so edited for television, and the stars could really say and do what they wanted and you have a point of reference for Desperate in DC.
It appeals to readers looking for a day in the life of two normal women trying to thrive and survive in a not-so-normal world. The book offers both entertainment and advice on how to cope and stay in control of your life surrounded by the pressures of the DC political world and the high-end residents living in it. From private schools to pedicures, bedrooms to boardrooms, the ladies behind Desperate in DC capture 'Inside The Beltway' blowhards of both sexes like only ultimate insiders can.
Readers will find themselves strangely familiar with the daily laughs and disasters that Crystal and Phoebe come across, from raising children while balancing work to having naughty neighbors and loving husbands who are pulled into the duo's adventures.
Even the authors have come to terms with their outrageous yet candid lifestyles. "If you can't poke fun at the ridiculousness of the way we live here," quips co-author Phoebe, "…paying three times what we should for our homes, stuck in perpetual traffic, jockeying to see just how exclusive our kid's private school is when the public schools in this area are better than 99% of the rest of the country, then you've been drinking the Washington, D.C. Kool-Aid too long." Crystal's twinkling eyes give off a sense of been there, done that, keep the t-shirt. "Just go anywhere else in America… hell, go 150 miles into West Virginia or Pennsylvania and you'll see how the rest of the world lives."
For anyone wrestling with the seemingly endless issues tied to money, marriage, and motherhood, Desperate in DC demonstrates that women who appear to have it all certainly don't have it all figured out – even if they do succeed in making the journey hilarious as well as enlightening.
The authors have appeared on One America News Network, BlogTalk Radio on The Take with Charles Butler, Redding News Review, the Talk Radio Network on The Rusty Humphries Show, The Rich Zeoli Show, and many more leading media outlets.
Readers will also be able to get their hands on a copy of Desperate in DC online through Barnes & Noble, Amazon, Sony, Apple, and other leading distributors. To find out more about these lovely ladies and Desperate in DC, visit their website at http://www.desperateindc.com.