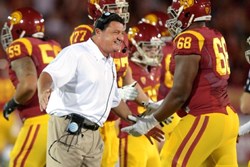 Denver, Colorado (PRWEB) November 21, 2013
It was all white knuckles last Saturday night before a sellout crowd of 93,607 at the Los Angeles Memorial Coliseum. With a mere 19 seconds on the clock, Trojan kicker Andre Heidari nailed a 47-yarder to upset the No. 5 Stanford Cardinals 20-17.
Suddenly, it was like déjà vu all over again. Once again, one of college football's most storied squads is leading the charge on the gridiron. But that's not surprising. The USC program hit the field in 1888, and has been voted National Champions 11 times.
Since 1959, they have won the conference championship 18 times and tied for the title six more times. USC also has the nation's best bowl winning percentage (.660) among the 65 schools that have made 10 or more bowl appearances. And, let us not forget the team's 33 Rose Bowl appearances, another all-time best.
"After faltering out of the gates this season and sacking Coach Lane Kiffin, the Trojans have found new life under interim Head Coach Ed Orgeron," said Marta Ault at online ticket marketplace BuyAnySeat.com
"USC struggled to live up to its lofty expectations under Lane Kiffin after opening the season ranked No. 24. But, the team has now flourished since his firing, going 5-1 overall and 5-0 in conference play under the fiery Orgeron," added Ault.
"That's why we're proud to offer fans the most comprehensive and continuously updated selection of sports tickets online, with a worry-free guarantee to protect their purchase."
"To access the full line-up of NCAA Football tickets now available, customers can go to BuyAnySeat.com and click on the Sports Header, then click on NCAA Football to select their team and their tickets," said Ault.
The Trojans are also known for their Heisman Trophy winners with six, not including Reggie Bush who won in 2005 and subsequently relinquished the title. The other Trojan tailbacks who have won the coveted award as college football's most outstanding player are Mike Garrett in 1965, O.J. Simpson in 1968, Charles White in 1979, Marcus Allen in 1981, Carson Palmer in 2002 and Matt Leinart in 2004.
Also notable is the fact that USC has 11 players in the Pro Football Hall of Fame, more than any other school. Also, as of 2011, 473 Trojans have been taken in the NFL Draft, again more than any other university.
Bottom line? The Trojans are under a mountain of pressure to regain their glory as one of the nation's most successful college football programs. To date, their defense is tied for 12th in the country with 15 interceptions. And, they have allowed a stingy 217.5 passing yards per game during the team's charge back into contention.
USC now sits in a second-place tie with UCLA in the PAC-12 South Division, one game behind first place Arizona State. The Trojans now look forward to a bowl game berth and a shot at the division title with two games to play.
They will try to make it five wins in a row for the first time since 2008 with a favorable matchup against lowly Colorado this weekend. Next, they head home to a hard-hitting divisional contest against No. 14 UCLA in their season finale.
The Top Ten NCAA Football teams for Week 13 are Alabama, Florida State, Ohio State, Baylor, Oregon, Auburn, Clemson, Missouri, Stanford, and Oklahoma State. Key late season match-ups this week include No. 17 Arizona State at No. 14 UCLA and No. 4 Baylor at No. 10 Oklahoma State.
To shop for NCAA Football tickets, visit BuyAnySeat.com.
About BuyAnySeat.com: An online ticket marketplace, BuyAnySeat.com connects sports, theater and other live entertainment fans to an extensive network of ticket sellers worldwide. The site's simplified listings and navigational tools enable shoppers to easily locate, compare and purchase inexpensive, discounted or lower-priced tickets to virtually all advertised sports and entertainment events around the globe.
The ticket marketplace, which is PCI-compliant and Norton Secured, also provides customers with a complete Worry-Free Guarantee on all ticket purchases. Based in Denver, Colorado, BuyAnySeat.com is a subsidiary of Denver Media Holdings. For more information, please visit http://buyanyseat.com.