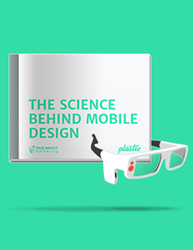 The insights will help brands understand why taking the time to design high-quality mobile apps is so important. - Jason Hyde, Creative Director at Plastic Mobile
New York, NY (PRWEB) November 21, 2013
Plastic Mobile, award-winning mobile agency and True Impact Marketing research firm have partnered to combine mobile usability testing with neuroscience research methods for the first time, to study how users engage with mobile commerce apps during a transaction.
The study used neuroscience methods, including electroencephalography (EEG) headsets and eye-tracking glasses, to take an unprecedented look into the user's brain while they made purchases using a mobile device. The user's attention, along with positive and negative emotions, were measured while they completed transactions in three different mobile commerce apps: Pizza Pizza, Best Buy, and Hyatt.
"Since the days of Mad Men, marketers and advertisers have relied on surveys and focus groups to understand what customers want. However, people will always act on how they feel and not what they say. This is where neuroscience comes in, to measure the emotional engagement of a communication and to optimize it for a specific audience," says Diana Lucaci, Founder and CEO of True Impact Marketing.
Mobile shopping is a highly competitive area and brands are fighting a fierce battle to engage users on their mobile devices. The key to driving loyalty using mobile is to create a great user experience that people find helpful, useful, and easy to navigate.
Jason Hyde, Creative Director at Plastic Mobile, says "There is a definite science to creating great usability in apps and now we can measure the subtle layer of quality that's associated with a well-designed user experience. The insights will help brands understand why taking the time to design high-quality mobile apps is so important."
The report titled "The Science Behind Mobile Design" is available for download here. The insights and recommendations will offer a new perspective on mobile user interface design and usability testing, while helping marketers better understand the overall mobile user experience.
About Plastic Mobile
Plastic Mobile is an award-winning mobile marketing agency that looks beyond the device and the hardware to keep up with a world in motion. Based out of Toronto and New York City, their office is home to the best creative minds, strategists and software engineers in mobile.
Plastic Mobile's full-service offering includes mobile strategy, design, development, and marketing of mobile user experiences with a customer-centric approach. Plastic's expertise includes m-commerce - which encompasses payments, transactions, mobile wallets, coupons and offers - as well as mobile loyalty, location-based marketing, mobile gaming and out-of-home initiatives. For more details and case studies, go to http://www.plasticmobile.com.
About True Impact Marketing
True Impact Marketing offers market research solutions to help customers create emotionally engaging communications. As a leading Canadian neuromarketing agency, we use brain-imaging technologies, such as EEG and fMRI, to uncover strategic insights that are accurate, predictive and low-risk. With features on CBC The National, Rogers TV, Reader's Digest, Strategy Magazine, and many others, True Impact Marketing continues to be on the cutting edge of marketing research and push boundaries in the neuromarketing field. We believe a great customer experience starts in the mind, and it is the key to brand success.
FOR MEDIA INQUIRIES:
Salome Sallehy
Marketing Director
Plastic Mobile
salome(at)plasticmobile(dot)com
Office: (416) 538-8880 x226
Mobile 1: (647) 970-2789
Mobile 2: (604) 726-2438
John DeCicco
Publicist
DeCic.co
john(at)decic(dot)co
Office: (917) 941-8773