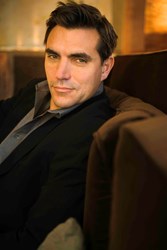 As a chef and father of three, I was happy to get involved to benefit such deserving causes and to give back any way I can.
(PRWEB) November 22, 2013
On December 3, 2013, the Pittsburgh-based Troy and Theodora Polamalu Foundation Fund of the Pittsburgh Foundation, will host a fundraising dinner featuring celebrity chef and television personality, Todd English, to benefit several causes that are dear to the hearts of Pittsburgh Steeler, Troy Polamalu and his wife, Theodora. Proceeds of the event will support the Pittsburgh Children's Hospital, the FOCUSNA Back Pack Feeding program and the Fa'a American Samoa Camp.
"It is important for Theodora and I to leave a legacy for our two sons and our broader community that goes beyond the football field. We believe it is imperative to give back and we are very excited Chef Todd English has committed to help us put together an event that will make an impact in so many children's lives," says Troy Polamalu.
The Polamalus are organizing what will be the first of a "One Night Only" dinner series featuring celebrity chefs in different cities throughout the United States in an intimate setting. For this dinner Chef Todd English will offer a 5-course tasting menu with wine pairings, showcasing his exquisite talent in delivering a sensational culinary experience.
"I am looking forward to working with the Polamalus and I was very inspired when I learned about their foundation and the incredible work that Troy and Theodora are doing to help so many children and families in need," says English. As a chef and father of three, I was happy to get involved to benefit such deserving causes and to give back any way I can. It is a great honor to know that food and culinary art can extend beyond people's immediate experience, and also serve as a backdrop for events such as this one, where we can bring awareness and attention towards the battle to curb hunger and suffering among our children."
Although the Troy and Theodora Polamalu Foundation Fund has benefited a variety of causes since its inception in 2007, it continuously supports the bi-annual Fa'a American Samoa Camp, which was founded by Troy Polamalu himself. Through the football and volleyball camp, which also has an academic component, Polamalu hopes to promote sports education, safety and proper athletic regulations for the youth in American Samoa.
The other organizations that will benefit from this dinner event are The Pittsburgh Children's Hospital Foundation, more specifically the patients and families cared for by the division of Hematology/Oncology, and FOCUSNA's Back Pack Feeding program, which provides meals for underserved children throughout the weekend when subsidized school meals are not available.
About Todd English:
Todd English is a renowned chef, restaurateur, author, entrepreneur, and television personality based in Boston, Massachusetts and New York City. He is a four-time James Beard Award winner and inductee into the James Beard Foundation's "Who's Who in Food and Beverage in America." He is the CEO of Todd English Enterprises which owns, manages and licenses over 20 restaurants worldwide including Olives (New York, Las Vegas, Mexico City, Bahamas), Todd English Food Hall (New York, Manila 2014), Todd English P.U.B. (Las Vegas, Birmingham), Figs (Boston, Charlestown, Kuwait, Nantucket and Macy's West Palm Beach), BlueZoo (Orlando), Ça Va (New York), Todd English Restaurant (Queen Mary 2), Tuscany (Mohegan Casino) and Isabelle's CurlyCakes (Boston). He has two sons and one daughter. For more information on chef Todd English and his restaurants please visit his website at http://www.toddenglish.com. Or, follow him on Facebook – http://www.facebook.com/ChefToddEnglish and on Twitter- @ChefToddEnglish