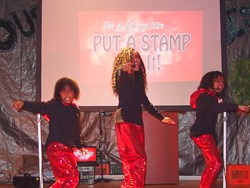 We are born to shine.
Chester Springs, PA (PRWEB) February 02, 2014
Many have had the pleasure of seeing the Smith III perform in the past and of course it is cute because they are kids, however, the recent performance in Pennsylvania, shows that Smith III means business. They are taking their fans and career to another level. Since the release of their album Diamond in a Rock, Smith III has been focused on learning as musicians and refining their skills. The album received Children Magazine 2013 award of Excellence. The group has also recently migrated from West Palm Beach, Florida, to Chester Springs, PA and has started a family company Aljdaas Isles, Inc. This production has led them to perform for great causes and charities, including, the CYWA.
The recent concert left their fans and audience members in surprise that they are children. The group first stepped on stage wearing white, gold and light blue shoes. The combination worked well for the young siblings group, who touched on several heartfelt issues and warmed the heart of the crowd.
The second half of their performance, Smith III changed into red and black outfits coordinating and rocked the crowd in a dance party session. The show was absolutely amazing for even the adults that were there. After the show, Smith III told the audience members to be aware for the great things that set to happen in the coming New Year as they will continue to work and produce positive music for next generation. For more information about upcoming shows/tour or to have Smith III perform at your event visit http://www.thesmithiii.com or contact Aljdaas Isles, Inc. 561-444-7133. Smith III's album is now available on itunes and amazon for download.