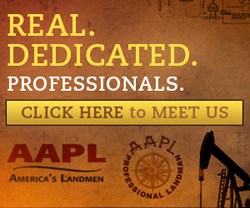 Fort Worth, Texas (PRWEB) November 21, 2013
This fall, the American Association of Professional Landmen (AAPL) is helping landowners in oil and gas shale plays across the United States learn about the landmen living and working in their communities with two words: "meet us."
AAPL, the professional association for more than 18,000 land professionals across the U.S. and in Canada, has launched an educational campaign to introduce the land profession to landowners living in emerging shale plays with little oil and gas industry knowledge. The campaign features seven short videos of AAPL landmen from across the country explaining what landmen do and the role landmen play in the oil and gas industry.
The videos are being launched through an online advertising campaign this fall in 14 markets throughout the Barnett, Eagle Ford, Haynesville-Bossier, Marcellus, Monterrey, New Albany, Niobrara and Woodford shale plays as well as on select national oil and gas trade websites. The advertisements encourage the public to "meet us" and direct landowners to AmericasLandman.com where they can access all seven videos and learn more about AAPL and the land profession.
To date, the "meet us" campaign has been exceptionally well received by the public, garnering over 7.3 million impressions across 30 media outlets and a 1,100 percent increase in website traffic to AmericasLandman.com within the first 10 days.
Don Key, president of AAPL, explained: "This incredible response by the public indicates that landowners across the U.S. are eager to know about landmen and what they do. The 'meet us' campaign has uncovered a significant need for public education about the land industry, and AAPL is proud to be leading those education efforts."
Since 1956, members of the American Association of Professional Landmen (AAPL) have publicly committed to abiding by the association's Code of Ethics and Standards of Practice for the land profession. Landowners who interact with AAPL members to lease oil and gas rights on their property can have confidence they'll be treated in a fair and ethical manner.
About the American Association of Professional Landmen
The American Association of Professional Landmen unites more than 18,000 landmen and land-related persons throughout 44 affiliated local associations in the United States and in Canada. AAPL serves as the voice of the landman profession to encourage fair trading terms that work in the best interest of all parties, wise utilization of natural resources and responsible employment of the land's surface. Visit AmericasLandman.com to learn more.
###