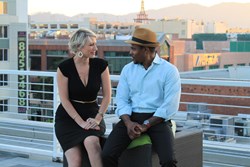 "C'est la Vie" is a romantic short film about finding true love and overcoming the emotional baggage we all inherit from our past lives and experiences.
Los Angeles, CA (PRWEB) November 26, 2013
Hollywood actor Malik Barnhardt recently announced the commencement of his directing career with upcoming movie, "C'est La Vie" that will be shot in late January, 2014. Famous for his work in noteworthy films, including, "8-Mile", "Get Rich or Die Tryin" and "Next Day Air", Barnhardt more recently appeared as lead actor in "Five Thirteen," a movie by Kader Ayd that is making headlines at the Cannes Festival.
With more than 20 movie credits under his belt, the actor is now testing his mettle in film writing and directing. His first project is a short film called "C'est La Vie," a love story featuring an American man, David (CEO of a realty company), and a French woman, Sophie (an art gallery owner), whom David meets in Geneva. Sophie seems to act as a catalyst for David, encouraging him to drop off his overburdening luggage and start a new life. David and Sophie soon discover they have life choices to make. Supported by his fans and followers, Malik Barnhardt is also launching a crowd-funding campaign on Indiegogo to share his enthusiasm about this new challenge as a movie director.
C'est La Vie
A romantic short film about finding true love and overcoming the emotional baggage that people inherit from their pasts, C'est La Vie will be shot in Geneva in late January, 2014. Malik Barnhardt will appear as the lead actor, opposite Claire Vidal, a French debut actress.
The plot shows how, from sweet cultural differences to difficult life choices, the two characters slowly reveal themselves to each other, wandering in the old streets of Geneva. Their worlds unexpectedly come together amidst the music, art and culture of the beautiful city, where they eventually discover that they have much more in common than it first appeared.
With the ambition to present the short film in international festivals, Malik Barnhardt created a crowd-funding campaign for his fans and followers on Indiegogo. They can contribute to the project, be part of the premieres and receive exclusive gifts.
About Malik Barnhardt
Malik Barnhardt is an American actor, writer, producer and director. A native of Newark, New Jersey, Malik dreamed of becoming an actor from the time he was eight. Malik enrolled at NYU where he studied Stanislavski, Meisner Technique, Improvisation and Comedic Timing. With Russell Simmons' vote of confidence, Malik moved to Los Angeles. With no credits, contacts or previous acting experience, Malik's big break came when he landed his very first job in the Oscar Award-winning movie, "8- Mile", starring Eminem, Kim Basinger, Mekhi Phifer and the late Brittany Murphy. Since then, he has played a variety of colorful characters, including roles alongside the likes of Val Kilmer, Tom Sizemore and Terrence Howard. He has also worked with critically acclaimed directors, Jim Sheridan and Curtis Hanson.
For more information on "C'est La Vie" and the crowd-funding campaign, visit the webpage http://goo.gl/8k28IO.