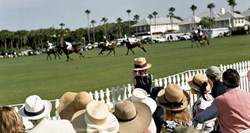 Vero Beach, FL (PRWEB) November 22, 2013
Agreeable weather and beautiful surroundings make Windsor, known as a "private sporting club and seaside village," surprisingly well-suited for a host of outdoor sporting activities, including equine pursuits. Its flourishing equestrian program includes a first-rate facility with 18 stables, 14 paddocks, as well as jumping, dressage and lunging rings. Members of all ages enjoy lessons with elite instructors and recreational rides along a private trail system that winds nearly five miles through old Florida hammocks.
The first Charity Polo Cup at Windsor held in 2012 not only enjoyed extensive local media coverage and a feature in the January 2013 edition of Town & Country Magazine, it also sparked increased interest in equine pursuits among Windsor's Members. This has resulted in the expansion of the Equestrian Centre offerings, including polo lessons and youth programs.
This year's Charity Polo Cup event will take place on Saturday, February 15, 2014, presented by Baltimore-headquartered investment firm Brown Advisory. Spectators at the event will gather around Windsor's picturesque 400-yard long polo field for a day of elegant alfresco dining, lively divot stomping and a chance to watch an exciting roster of world-class players in a spirited competition. Windsor Charity Polo Cup attendees will have the option of enjoying an elegant tented field-side champagne luncheon, or enjoying a picnic in the festive field-side tailgating area. An exclusive cocktail party is planned on the eve of the event for its premier sponsors. Other activities planned include a People's Choice Concours presented by The Space Coast Region of Porsche Club of America and an equestrian demonstration by The Special Equestrians of the Treasure Coast. More information on the Windsor Charity Polo Cup can be found at http://www.windsorflorida.com/polo.
The Hon. Hilary M. Weston, co-founder and Creative Director of Windsor and former Lieutenant Governor of Ontario, will be joined by Salvatore Ferragamo, grandson of the esteemed Italian footwear designer and leader of his family's expanding wine business, as the event's Honorary Co-Chairs. The 2014 Event Co-Chairs are Windsor Members Kjestine Bijur and Susan Knott. Proceeds from the 2014 event will directly benefit the Rett Syndrome Research Trust and Indian River County School District: "Summer Literacy on the Lagoon".
ABOUT WINDSOR
Windsor is a private residential community spanning 416 acres of lush barrier island between the Indian River and the Atlantic Ocean in Vero Beach, Florida. Established in 1989 by Hilary and W. Galen Weston of Toronto, Canada, Windsor was designed by renowned town planners Andrés Duany and Elizabeth Plater-Zyberk following the New Urbanism principles of urban design, one that offers public and community spaces framed by timeless architecture and landscape design that celebrates this tropical and unspoiled setting. http://www.windsorflorida.com.
Photograph © Jonathan Becker