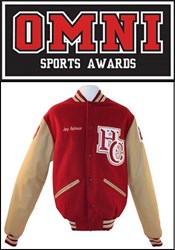 We want our customers to have the best selection of custom sports awards at great prices.
Waycross, GA (PRWEB) November 25, 2013
Omni Sports Awards (OSA) announced that it has launched it a new website for their lines of custom letterman jackets, custom varsity letters, varsity pins, custom award blankets, custom championship and playoff patches, and monogrammed sportswear. The new website allows visitors to view the company's lineup of products through an interactive shopping experience where customers can submit orders for their custom sports award products. Many of the products are made in the USA at OMNI's manufacturing facility in Waycross GA where they can customize school letters and championship awards.
Football season is coming to a close and award banquets will be coming up soon. OMNI Sports Awards wants their clients to be ready with custom sports awards for their teams. OMNI's manufacturing facility in Waycross GA produces beautiful custom chenille award letters that can be presented to players and worn proudly on their OSA monogrammed varsity jackets. Coaches and staff members can also be outfitted with custom school apparel from OMNI. With the end of 2013 comes basketball and wrestling seasons plus spring will bring baseball and track all of which will need awards and varsity jackets. OMNI is ready with all of the custom sports awards for any public or private school to honor their athletes when the seasons are done.
Matt James, Director of Marketing for OMNI, commented on the new website. "We want our customers to have the best selection of custom sports awards at great prices. Our new website provides our clients with easy online access to our sports awards and where they can easily submit custom orders for any of our products. Online orders receive the same high level of customer service and support all of our clients receive. The new website allows us to serve clients anywhere in the country. We have a huge selection of letter jackets styles and options that can be customized with a school's colors and logos and when it comes to award letters we can custom design letters to any school's design. We are the original Georgia sports awards company and want to keep our customers coming back again and again."
Omni Sports Awards has been a top name in Georgia sports awards for years. They take pride in providing sports teams with the custom varsity jackets, custom chenille award letters, award blankets, custom championship patches, sports pins and patches, mascot patches, ROTC chevrons and a wide variety of sports apparel. They provide all the sports awards and clothing a school team needs to have great season from start to finish. To contact this outstanding Georgia sports awards company or to order custom team awards you can reach them by phone at (800) 548-0527 or by email. Website and web marketing provided by Atlanta SEO Company, Interactive Search Marketing.