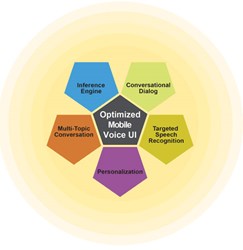 "We have a voice technology that listens, learns and responds like a human," said CEO Farzad Ehsani. "No-one has tackled dialogue and language understanding as a necessary function of device communication."
SUNNYVALE, CA (PRWEB) November 26, 2013
FLUENTIAL, a company that delivers advanced voice interaction technologies, today announced the completion of a $2 million equity investment, bringing it's total funding (to date) to $8 million. Fluential builds context-savvy interactive voice recognition technology, and is using the capital to expand development of speech optimization and deep language understanding tools for mobile devices, wearables and consumer "personal assistant" applications.
Fluential will release the first consumer application of its intelligent voice technology for the digital health, wellness and weight management space in Spring 2014.
Philanthropist, entrepreneur and medical researcher Dr. Patrick Soon-Shiong, Chairman and CEO of NantWorks, led the funding. Shiong's $8 million infusion underscores Fluential's impact on the use of voice-based user interfaces via the company's proprietary and patented set of technologies, which include: speech recognition, artificial intelligence, natural language processing and probabilistic inference.
"'Natural Language Understanding' has developed in sophistication and accuracy over the years – but similar technologies still require so much training that voice hasn't effectively penetrated the consumer mobile device market," said Farzad Ehsani, Founder and CEO of Fluential. "With this investment, Fluential has been allowed to dramatically improve the voice assistance experience – particularly in the Quantified Self space – with technology that automatically understands context, content and even nuanced speech patterns and dialects so well that voice becomes an instantly rewarding and useful function for consumers."
Fluential, which received initial funding in 2011, holds six patents, with nine pending, in intelligent voice technologies spanning conversational dialog, targeted speech recognition, personalization, multi-topic conversation and inference engines to deliver a highly optimized voice UI for mobile devices. The company's multimodal architecture also combines its speech technology with touch and text into a single interface to offer application developers and users a comprehensive, interactive content search and retrieval experience.
"In the beginning there was Siri; While entertaining, Apple's technology has not proven itself to be a practical – or even serviceable – feature for smartphone users," added Ehsani. "When voice technology learns and adapts to a user's natural speaking habits and begins to interpret even the most ambiguous commands and inquiries successfully, then we believe it will catch on in the consumer device market."
"The market potential for voice is significant, with smart watches, Nike+ FuelBands, Google Glass, smart TVs – even cars, appliances and toys – all primed to exploit 'voice assistant' technologies," said Dr. Patrick Soon-Shiong. "Fluential accurately interprets even the most ambiguous language, allowing users and application developers to effectively translate natural, nuanced speech into useful, rich data information."
"Imagine a language interface so in tune with your voice that it would allow a device to effortlessly process – without the need for training, touch or type – voice-activated television navigation, the cataloging of a meal for a weight management app, or even search while shopping," added Soon-Shiong. "To be able to tell your device, 'pull up the shopping list for my favorite low calorie chicken recipes' and receive the correct results would take the capabilities of any device to new heights."
About Fluential
A leader in advanced speech and linguistic interfaces, Fluential has devoted more than 85 man-years of research to developing and improving interactive voice technologies for the military, healthcare and digital health industries. Recognizing that speech is the next essential function of mobile and consumer devices, Fluential focuses on optimizing the voice experience with multimodal interactions that both simplify and enhance consumers' lives. For more information, please visit http://www.fluential.com.
About NantWorks, LLC:
On the front-lines of the cutting edge, NantWorks brings the impossible to life. Founded by renowned scientist Dr. Patrick Soon-Shiong, NantWorks LLC converges the powers of semiconductor technology, supercomputing, advanced networks, and proven innovation — all animated by the limitless power of human ingenuity — to reimagine and redefine the world around us. Applying collaborative sciences to fields as diverse as healthcare, commerce, and digital entertainment, NantWorks seeks not just to remodel how we interact with our environments—but to revolutionize how we all work, live, and play on a daily basis.
NantWorks is the umbrella organization for the following entities: NantHealth, NantMobile, NantMedia, NantOmics, NantBio, and NantCloud. Fact-based and solution driven, each of NantWork's division entities operates at the intersection of innovation and infrastructure. For more information please go to http://www.nanthealth or http://www.nantmobile.com.