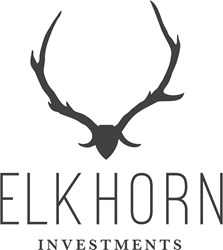 Our partnership with Elkhorn Investments represents one of the new frontiers in investment architecture.
Wheaton, IL (PRWEB) November 25, 2013
Elkhorn Investments, LLC (Elkhorn) announced today that it has entered into an agreement with Dorsey, Wright & Associates, LLC (DWA) to design investment products with DWA's proprietary research. The new products allow advisors to access DWA proprietary research models in a single investment.
"Our partnership with Elkhorn Investments," says Tom Dorsey, co-founder and president of DWA, "represents one of the new frontiers in investment architecture. We're excited to offer our models through Elkhorn's investment solutions."
One of the first Elkhorn products contains DWA's Relative Strength research among an inventory of MLPs. Another product creates a buffered note linked to the performance of PowerShares' DWA PDP/SPLV 50/50 Selection. On December 5, 2013, at 12 PM EST, Dorsey and Fulton will host an advisor webcast on "What's Next for Relative Strength," which will educate advisors on applying momentum strategies to structured products and managed accounts. To register for the webcast, visit http://links.dorseywright.mkt5193.com/servlet/MailView?ms=NDQzNzMxNzkS1&r=NTA1Mzk2OTYwMjcS1&j=MjEzMzA1NzUxS0&mt=1&rt=0.
Elkhorn's founder and CEO, Ben Fulton, who recently left Invesco PowerShares as Managing Director of its global ETF business, says, "I'm excited to continue my long-time partnership with Tom and DWA. Our vision at Elkhorn is to design investment solutions that address the changing financial landscape and meet the needs of today's discerning advisors."
Founded in 2013, Elkhorn is an independent investment solutions firm that designs, sponsors and distributes packaged financial products with research partners. Elkhorn's founder, Ben Fulton, has been described as one of the pioneers of the ETF industry. Elkhorn's ETF- and market-linked investment solutions provide advisors simplicity, transparency and world-class research in a single CUSIP. Elkhorn is located in Wheaton, IL. http://elkhorn.com
DWA is an independent and privately owned registered investment advisory firm based in Richmond, VA. Since 1987, DWA has been a leading provider of technical research to Wall Street and investment managers worldwide. Co-founder and President, Tom Dorsey, is the author of Point & Figure Charting: The Essential Application for Forecasting and Tracking Market Prices, Thriving as a Broker in the 21st Century, and Tom Dorsey's Trading Tips: A Playbook for Stock Market Success. http://www.dorseywright.com
Advisors can contact Elkhorn by calling 1-630-ELKHORN (1-630-355-4676).
Media Contact
KRISTIN SADLON
PORTER NOVELLI
D+ 1 212 601 8192
kristin.sadlon(at)porternovelli(dot)com
M+ 1 646 334 0463