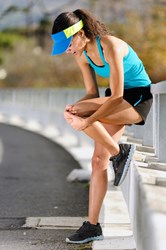 ACL reconstruction surgery is considered generally quite safe, and the overall success rate is quite high. About 60 percent of people who have ACL surgery are able to return to the full level of activity experienced before the injury.
Santa Rosa, California (PRWEB) November 24, 2013
At Santa Rosa Orthopaedics (SRO), a collaborative team of multi-specialist orthopedic surgeons and experienced physical and occupational therapists work together to bring the best outcomes to patients suffering from knee injuries.
It's not only professional athletes who are vulnerable to debilitating knee injuries like anterior cruciate ligament (ACL) tears – it can happen to virtually anyone, at any time. Painful knee injuries can also occur over time due to simple overuse of the knee joint. Injuries to the knee are in fact, quite common and in most cases they are best treated by orthopedic physicians. Injuries that typically cause patients to seek out the services of an orthopedic specialist may include:

tendinitis in the patellar tendon or quadriceps tendon
stretching or tearing of the anterior cruciate ligament (ACL)
stretching or tearing of the medial collateral ligament (MCL)
tearing of the meniscus
When any of these injuries occur, the lower leg bone may move abnormally forward on the upper bone, causing the patient to feel as if of the knee giving out, and possibly further injuring the inside structures of the knee. With these kinds of knee injuries, every time the knee is flexed an array of ligaments and muscle tissue move, and when this become inflamed due to an injury, every one of those movements is painful. Once the knee is injured to such an extent it becomes very difficult to recover without proper treatment.
When to Seek Medical Help
Left untreated, knee injuries can persist for years and ultimately cause long term mobility issues that can keep sufferers from engaging in the activities they enjoy. Anyone suffering from a moderate to more severe ACL injury accompanied by persistent pain is likely to consider ACL surgery or ACL reconstruction at some point. Unfortunately, when the ACL tears it simply will not heal without treatment.
Consequences of Delaying ACL Treatment
The risks of not treating an ACL injury depend on several factors including severity of injury and the how much time has passed since the injury occurred. If treatment is not sought by the patient, the injury could potentially develop into chronic ACL deficiency. This happens when the knee becomes more and more unstable leaving it prone to instability. The abnormal shifting of soft tissue within the knee also can damage cartilage, and trap and damage the menisci in the knee, potentially leading to premature osteoarthritis. Opting to wait to reconstruct a torn ACL can result in a situation where the surgeon may not be able to make a complete repair to the joint. Therefore, it is important to seek out medical advice as soon as possible, and if it is recommended by your orthopedic surgeon, then to undergo surgery before knee instability leads to degenerative changes.
How successful is ACL Reconstruction Surgery
ACL reconstruction surgery is considered generally quite safe, and the overall success rate is quite high. About 60 percent of people who have ACL surgery are able to return to the full level of activity experienced before the injury. And, between 80 and 90 percent of people who have ACL surgery have favorable results, with reduced pain, good knee function and stability, and those people are able to return to normal levels of activity. Only about 3 and 10 percent of people who have ACL surgery continue to suffer knee pain and instability to some extent.
Arthroscopy – A Surgical Option for Treating ACL Injuries
Arthroscopy is the surgical procedure of choice when it comes to ACL reconstruction, a minimally invasive technique where small incisions are made in the knee (a much larger incision has been used traditionally). An arthroscope is essentially a specially designed thin tube that fits easily into joints - made up a light, a system of lenses and a tiny video camera. The surgeon is guided through the actual surgery by the real-time images provided by the camera. In this way, the torn ligament is removed along with any debris like bone or cartilage chips. The surgeon then replaces the torn ligament with a tissue graft.
In addition to being less invasive, the benefits of arthroscopic surgery include; less pain from surgery, less time spent in the hospital, less down time, a quicker recovery time and a speedy return to normal activities. If you think you have an ACL injury, you may want to consult a board certified orthopedic surgeon for a thorough exam and more information about your treatment options.
After an injury, or following surgery an exercise conditioning program will be prescribed to help the patient return to daily activities so they can be ready to enjoy a more active, healthy lifestyle. Following a well-structured conditioning program will also help ensure a speedy return to sports and other recreational activities.
Santa Rosa Othopaedics Has You Covered
ACL injuries can be very serious, and as with any serious medical condition it is a good idea to seek out the qualified advice and treatment of a medical professional such as a board certified orthopedic physician. With a state-of-the-art facility and a full complement of highly skilled physicians and other professionals, Santa Rosa Orthopaedics is able to offer ACL injury patients everything they might need for successful treatment and recovery including;
in-house diagnostic imaging
rehabilitation
sports injury (including ACL injury) prevention
advanced surgical treatments in joint replacement
sports medicine
trauma care
orthopedic surgery
SRO offers a model orthopedic rehab program to patients in Sonoma County and the surrounding areas. At the center's 10,000-square-foot facility, nine board-certified orthopedic surgeons and seven experienced physical and occupational therapists work as a team to produce exceptional patient outcomes. This synergistic approach between top specialists in their fields makes SRO Sports Medicine and Rehabilitation Sonoma County's premier orthopedic rehab facility. SRO now treats over 2,300 physical therapy patients annually, totaling about 25,000 visits per year.
SRO has set the model for exceptional orthopedic care for more than 60 years. The SRO multidisciplinary team of orthopaedic experts is highly skilled at performing all types of orthopeadic surgeries and treatments including ACL tear reconstruction. In addition, SRO offers a broad range of nonsurgical and surgical treatments aimed at conditions that commonly affect bones, joints, tendons connective tissues and ligaments. To make an appointment or to learn more about SRO Orthopedic Surgeons visit our website.