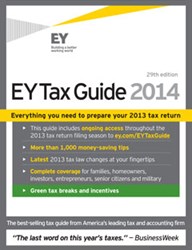 The Tax Guide and its companion website are tools that can help taxpayers identify additional tax deductions that may apply to their tax situation. - Greg Rosica, contributing author to the EY Tax Guide 2014
New York, NY (PRWEB) December 03, 2013
A favorite among do-it-yourself filers and tax professionals alike for nearly three decades, the EY Tax Guide 2014 is now available online and in bookstores. The 29th edition of the Tax Guide provides readers with everything they need to prepare for the upcoming 2013 income tax return filing season. The Guide highlights important tax law changes and includes money-saving tax tips that could affect families, entrepreneurs, investors, homeowners, senior citizens and military personnel.
"Sweeping new tax laws took effect for 2013 and beyond," said Greg Rosica, contributing author to the EY Tax Guide 2014. "The American Taxpayer Relief Act and the Affordable Care Act bring widespread tax changes that significantly impact taxpayers, so it's essential to educate yourself on how these laws can affect your tax and financial situation. In addition, the US Supreme Court ruling in 2013 that overturned key provisions of the federal Defense of Marriage Act and subsequent IRS ruling ushered in substantial tax changes for same-sex married couples."
Available in all e-book formats for the second year (eMOBI, ePUB and ePDF) as well as traditional hard copy, the Tax Guide provides readers with easy, on-the-go access to important 2013 tax changes. Taxpayers and professional preparers can sign up for the Guide's companion website at ey.com/EYTaxGuide to receive tax alert emails and access up-to-date information about tax law changes.
"The Tax Guide and its companion website are tools that can help taxpayers identify additional tax deductions that may apply to their tax situation," said Rosica. "The email alerts especially are useful for do-it-yourself preparers and professionals to stay informed of tax law changes as they happen."
A proud recipient of the Communications Concept, Inc. 2013 Apex Grand Award for Electronic Media, the 2012 Apex Grand Award for Content Excellence for Content and Design, and an Independent Publisher 2012 Axiom Award for Best Business Reference Book, the EY Tax Guide (John Wiley & Sons, Inc.; $24.95, 1032 pp.) is praised by critics year after year as one of the best tax preparation resources available.
"With the tax landscape continuing to change every year, the EY Tax Guide is an excellent reference tool to help readers navigate through a complex and frequently changing tax scene and prepare accordingly," said Rosica.
Included are two books in one -- the first is the official Internal Revenue Service (IRS) tax guide, Publication 17 – Your Federal Income Tax, which contains the IRS's position on many of the questions taxpayers face. The second portion includes EY-prepared content that provides taxpayers and preparers with EY's comments and explanations, including:

TaxPlanners: ideas to better plan for the upcoming year
TaxOrganizers: steps to take now that can make tax filing easier
TaxSavers: tips to ease your tax bill this year and next
TaxAlerts: tax rules and regulations that changed recently or may change in the near future
The EY portion also includes a summary of the major changes in the tax law for 2013 you should know about and a chapter that discusses planning ahead for 2014 and beyond. Additional chapters go beyond those included in IRS Publication 17 to cover a wide spectrum of topics including specific information for the self-employed, tax treatment of mutual funds, gift and estate tax planning, tax considerations for US citizens working abroad and foreign citizens living in the US.
The EY Tax Guide 2014 also incorporates a number of valuable tools and lists, including how to avoid the 25 most common tax-filing errors, the 50 most overlooked tax deductions, enhanced coverage of the alternative minimum tax (AMT), green tax breaks and incentives, and over 1,000 money-saving tax tips.
About EY
EY is a global leader in assurance, tax, transaction and advisory services. The insights and quality services we deliver help build trust and confidence in the capital markets and in economies the world over. We develop outstanding leaders who team to deliver on our promises to all of our stakeholders. In so doing, we play a critical role in building a better working world for our people, for our clients and for our communities.
EY refers to the global organization and may refer to one or more of the member firms of Ernst & Young Global Limited, each of which is a separate legal entity. Ernst & Young Global Limited, a UK company limited by guarantee, does not provide services to clients. For more information about our organization, please visit ey.com.
This news release has been issued by Ernst & Young LLP, an EY member firm providing services to clients in the US.
###