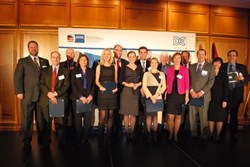 Bartlett, IL (PRWEB) November 23, 2013
Over 150 guests gathered at the Mid-America Club in downtown Chicago on November 8th, 2013 for the 50th Anniversary edition of GACC Midwest's highly anticipated event.
Dr. Anna-Katharina Wittenstein accepted the 15 year anniversary membership award for WITTENSTEIN North America. WITTENSTEIN has been an active member of the German American Chamber of Commerce and was honored for 15 years of strengthening the business community in the Midwest region.