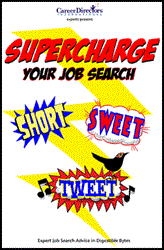 49 certified, award-winning, and highly knowledgeable resume writers and career coaches from CDI's global membership contributed close to 900 job search tips for the e-book.
Melbourne, Florida (PRWEB) November 22, 2013
When the global professional association, Career Directors International (CDI), set out to create a resource for job seekers, which culminated with today's release of the complimentary e-book, Supercharge Your Job Search, they had no idea how big the project would get.
CDI President Laura DeCarlo says, "We think big; it's part of our mission. CDI wanted to bring together some of the best and brightest of industry influencers to contribute to and collaborate on the content of an easy-to-use, up-to-date, and dynamic job search guide. In the end, 49 certified, award-winning, and highly knowledgeable resume writers and career coaches from CDI's global membership contributed close to 900 tips for the e-book."
But CDI says it wasn't just about putting together an e-book that could now be downloaded at no cost. The process was two-pronged and began last year as an educational campaign on Twitter where CDI tweeted through @careerhero eight times a day, Monday-Friday, for nine straight months to bring the expertise of their contributors to job seekers everywhere.
DeCarlo says, "We brought so many individuals into the world of Tweeting and showed how deep and often challenging content can be presented in easy-to-absorb 'bytes', since a tweet is just 140 characters long. Further, we helped make job seekers aware that there are talented professional resume writers and career coaches in their midst who can help guide them rapidly and successfully out of the job search maze."
It's quite amazing the impact one little Tweet can have as the campaign and newly updated e-book shows with a wealth of how-to content encompassing:
1. Focusing a job search
2. Targeting organizations, industries, and individuals
3. Networking to find jobs
4. Using job boards and website job centers in job search
5. Leveraging career fairs
6. Sourcing with recruiters and employers
7. Finding temporary to permanent hiring opportunities
8. Benefiting from want ads
9. Performing company walk-ins.
CDI's member experts have left no stone unturned in creating this robust resource and hope many individuals will take advantage of using and sharing the guide. In an effort to make it accessible CDI has applied a creative commons license which allows unlimited sharing of the e-book. DeCarlo says, "CDI wants this e-book and its expertise to be shared. The goal is to reach as many job seekers as possible with this valuable resource."
In closing, CDI would like to thank the team behind this massive effort, the CDI Innovation Committee, which is made up of volunteers including:
Current Committee Director: Laura DeCarlo
Former Committee Director: Tony Deblauwe, HR4Change
Susan Guarneri, AssessmentGoddess.com
Judy Gillespie, Career Avenues by Judy
Dave J. Jensen, Ascension Writing Services
Surranna Sandy, Surcorp Resume Solutions/Resume Solutions
Sakeena Rashid, Vertical Resume
The e-book and other free resources for job seekers can be accessed at CDI's Job Seeker Center.
About CDI: Career Directors International – http://www.careerdirectors.com
CDI is a global organization that positions career and resume professionals for dynamic success. CDI is focused on championing the industry's cause for credibility and visibility; fostering exceptional success in every generation of career and resume professionals; and cultivating the career superhero that exists within each one of us.