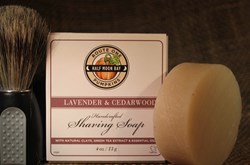 We have had many requests from our male customers for a shaving soap that delivers both a close shave and protects the skin naturally. We are very excited to announce the results of our research today. - Sandra Klein, CEO
Half Moon Bay, CA (PRWEB) November 22, 2013
Route One Pumpkins announced today that it is launching its first shaving soap, based on high customer interest. This round soap fits in most traditional shaving cups and dishes to allow use with a traditional bristle brush for optimal lather.
Like all Route One Pumpkins soap, the shaving soap uses a combination of nourishing organic vegetable oils that deliver moisture and great lather, plus extra French green, and bentonite clays and green tea extract. We used skin-friendly lavender and cedarwood essential oils, which are known to be soothing, protecting and firm skin.
Interest in traditional shaving has been growing in recent years, with sales of bristle brushes and shaving soaps growing significantly. Experts cite both a desire to use purer products without chemical stabilizers and aerosols as well as the attraction of the morning ritual of rich, nourishing lather. However, according to customers, good alternatives are still hard to find. Route One Pumpkins is confident that the soothing formula in the attractive round shape will appeal to this customer base, and that holiday gift giving is an optimal time to launch.benefits of shaving soap.