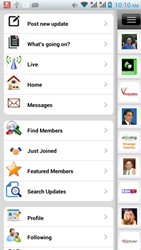 Download this amazing Android app to promote your business today!
Irvine, CA (PRWEB) November 23, 2013
oGoing launches an amazing online business networking, social media marketing and lead generation Android app for small business owners, marketers, entrepreneurs, professionals and service providers.
"oGoing is changing the way local businesses and service providers connect with customers, network online and promote their products and services. Our new Android App is a game changer for online business networking, social media marketing and lead generation. I invite all professionals using their Android smartphones to download this amazing app today!" said Sanjay Dalal, founder / CEO, of oGoing
Download the brand new oGoing Android App
oGoing is an exclusive business social networking platform built for discerning professionals who want to grow their social media presence, online marketing and sales.
oGoing members see real improvement in website traffic, SEO search engine ranking, online visibility, social media engagement and qualified leads when they use their Android app frequently.
Using this innovative app, oGoing members instantly share what's going on:
1. Promote offers and specials
2. Post news and events
3. Share product updates
4. Ask questions
5. Express business needs
6. Ask and give referrals
7. Provide expert insights
8. Share YouTube videos
9. Engage with members
10. Recommend trusted members
oGoing members connect with tens of thousands of potential customers on this very easy to use Android app.
oGoing members are able to simultaneously share their messages with visuals on Facebook, LinkedIn, Twitter and Google+.
oGoing is the small business social network to engage with new and existing customers, create loyal relationships and jumpstart sales using the latest social media. Think of oGoing as the Business Matchmaker!
Who is using the oGoing app?
Business Owners, Small Business, Entrepreneurs, Professionals, Startups, SMB, Marketers and Service Providers looking to network, share and grow their business, and beat the competition.
Download the brand new oGoing Android App
About oGoing:
oGoing.com is USA's leading small business social network. oGoing gives owners, service providers and entrepreneurs a powerful social media marketing platform that promotes the business, attracts new customers, boosts online visibility, improves website traffic and accelerates sales.
oGoing Helps Small Businesses Find New Customers!