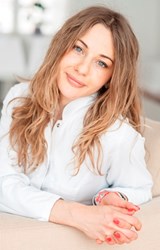 Integrating health as part of a patient's skin treatment gives us the best possible outcome - a patient who is as healthy on the inside as they look on the outside.
London (PRWEB UK) 25 November 2013
Dr Barbara Kubicka, founder of ClinicBe®, is a doctor who has built her career on providing professional Aesthetic Treatments to improve patients' skin.
However, her approach is quite unique. Rather than simply treating the skin on the outside, she takes an integrated approach to skin and healthcare, believing that the best skin comes from within. The 'inside out' approach to skincare involves addressing key areas of nutrition, hydration and lifestyle as a central strategy to creating beautiful skin.
Clinic Director Dr Barbara Kubicka MD explains:
"Too many skincare practitioners only focus on fixing external skin conditions, such as the signs of ageing or sun damage.
"It is true that modern aesthetic medicine enables us to trouble shoot these areas and provide cosmetic improvements. However, I believe that this is a short term strategy of 'quick fixes' which does not take a holistic look at what is right for the patient.
"Integrated skin and healthcare is about looking at the patient from the inside out. Nutrition, hydration and lifestyle factors can affect the appearance and health of the skin quite significantly and it is important to address any underlying causes for skin problems rather than just seeking to improve the surface appearance."
A consultation with Dr Kubicka includes a detailed review of diet and understanding of key health factors in their daily lives that can be improved.
Dr Kubicka goes on to say:
"This doesn't have to mean difficult diets or unrealistic changes to habits. Every patient is different and as part of the consultation process, we seek to understand their daily lives and provide them with nutritional tips that are both useful and useable for them.
"At the moment, a lot of my patients are discovering the benefits of drinking alkalised water and eating plenty of green veg. These neutralise the acid created by coffee or sugary snacks and are excellent tactics for healthy looking skin and hair.
"Certain super-foods or antioxidant-rich food is also very helpful to give the skin good nutrients from within. Cranberries, blueberries, and blackberries are good antioxidant fruits. For vegetables, try beans and artichokes as well as pecans, walnuts and hazelnuts. These are all good choices for antioxidant content.
"We also consider the benefits of supplements. While vitamins are generally best taken from a varied diet, vitamin D3 is synthesised in the body from sun light and at this time of year a supplement is useful to stimulate the body's metabolic processes.
"Integrating health as part of a patient's skin treatment gives us the best possible outcome - a patient who is as healthy on the inside as they look on the outside."
Dr Barbara Kubicka MD, CIME/ICAM, MBCAM is a fully qualified doctor, registered with the GMC and with additional qualifications in aesthetic treatments from the world-renowned College de International de Medicine Esthetique in Paris.
She founded ClinicBe to offer a new holistic approach to skincare treatments, treating the patient as a whole in order to get the best possible results from any treatments they may have. Popular treatments include wrinkle-relaxing injections and facial fillers as well as mesotherapy and dermaroller.
The Company also has a particular reputation for offering innovative treatments, such as their exclusive Triple Synergy Hair Loss System, Eyedealise treatment and Neck and Jawline Programme all developed by Dr Kubicka herself.
More recently, the offer has expanded with the introduction of laser liposuction and IPL, advanced technology chosen to extend the range of treatments and services available.
ClinicBe® is conveniently situated on the border of Belgravia/Knightsbridge and is popular with those that live and work in the West London area, including Chelsea, Kensington and Mayfair although patients travel from across the UK and even overseas to visit Dr Kubicka.
For further information or to arrange a confidential consultation, please contact us.