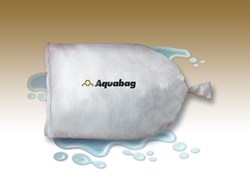 The reduction in manpower and minimal use of heavy equipment, obviously make these very easy and inexpensive to use.
(PRWEB) December 05, 2013
For several years, Base Products Corp of Buffalo NY has offered a product called Aquabag Instant Sandbag as a means of flood control. This product looks and feels much like an ordinary empty sandbag, i.e.without the sand. However, when it is submerged in fresh water, it absorbs the water and the material inside swells many times to be a full "sandbag" in just a few minutes. This is far less time than it takes to fill an empty one with sand, for sure.
So how did they improve it? They have increased the inner absorbent material so it swells up to be much fatter and easier to build with. Previously, the bag would swell up to be a soft-sided, flabby bag of squishy material. These were fairly easy to use, but didn't really "feel" like a full bag. Now that they have increased the amount of inner material, the bag fills to a larger, more "full-feeling" bag that can be piled and stacked in a more well-formed levee.
Aquabag is designed to be kept on hand, in a dry storage area, for later use when a storm with potential flooding is on the way. When ready, just set up a staging area near the site where you are going to use them. Move the dry, "empty" bags to your staging site and start soaking them. This is far less costly than moving sand or dirt and filling bags at a remote site and then transporting the heavy filled bags to the levee site. With Aquabag, as they swell up, you just move them over to the nearby site of your levee and start building. Our customers say, "The reduction in manpower and minimal use of heavy equipment, obviously make these very easy and inexpensive to use."
After the storm has passed and the waters recede, it is time for cleanup. The bags may be safely sent to a landfill where they break down quite readily. The internal material is environmentally safe and improves the water retention properties of the soil. In fact, the empty bags may be sent to farms to be spread on soil to be worked in for water retention. This helps reduce the amount of irrigation needed, which saves water.
They may also be sent to nurseries and garden centers to be used in gardening and potting soil. This helps retain moisture for newly planted seeds or seedlings, shrubs or trees, etc.. The bags themselves will rot and break down in just a few years in a landfill.
Base Products Corporation, located in Buffalo, NY, is a manufacturer of flood prevention products for over 13 years. They specialize in backup sump pumps, both water powered and battery powered, along with water alarms and automatic water shutoff systems that can prevent or reduce damage to your home from leaking pipes and underground infiltration. They have a web site at http://www.basepump.com and can be reached at 800 554 1426.