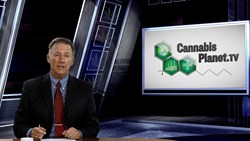 "Cannabis Planet is like the '20/20' of the 420 world..." - Gunter Marksteiner, owner, WHDT TV
Los Angeles, CA (PRWEB) November 22, 2013
Next to Obama Care, cannabis is the hottest, most discussed subject in the media. Twenty states and D.C. have medical marijuana, fourteen states have decriminalized marijuana, two states have legalized it for everyone and several more states are poised to pass legalization laws. Americans still have questions and beginning on November 23, Cannabis Planet TV takes to the airwaves nationally in dozens of cites with the answers to all questions relative to the cannabis plant as a food, medicine and industrial resource.
Originally seen only in California, Cannabis Planet will air weekly in Miami, Florida, Baton Rouge, Louisiana, East Texas, Oregon Minnesota and Los Angeles. More stations are being added daily. Cannabis Planet educates viewers with an emphasis on medical research, science, industrial hemp information, cannabis cooking, cannabis celebrities and legalization advances both nationally and globally.
The first show features long time federal marijuana recipients, stockbroker Irvin Rosenfeld who gets free government medical marijuana to treat his tumors, and glaucoma patient Elvy Musika. Interviews also include Harvard's Dr; Lester Grinspoon, a cannabis research pioneer and author of the book "Marijuana Reconsidered". There will be holiday cannabis cooking tips from Chef Mike Delao, hemp information and musical guest Trevor Green.
The show's new syndication is a collaborative effort between Cannabis Planet Executive Producers Bill Scher and Brad Lane who enlisted the help of former infomercial maker Robert Platshorn, the man behind The Silver Tour that teaches seniors the benefits of medical marijuana. For years TV stations refused to air Lane's show claiming that the subject too controversial. But in the last few years things have been changing. "Robert's Silver Tour TV show, Should Grandma Smoke Pot? has been breaking down the TV barriers," Lane explained. "We were elated to have him become our media buyer," Lane continued.
Cannabis Planet's home station in Los Angeles is KJLA, serving 5.7 million viewers. KJLA General Manager Francis Wilkinson stated: "We were the first station to list Cannabis Planet in the TV Guide and to carry the programming. We feel the show is like the '20/20 of the 420 world' and the plant also finally seems to be in favor with the public in the recent Gallup polls."
Gunter Marksteiner, owner of WHDT TV in Miami is also eager to air the cannabis-based program and will air the show in the prime time slot of 7:00 p.m. on his stations. "It's time that the mainstream received accurate information about this versatile plant and Cannabis Planet does a great job of getting this message across in a professional manner," claimed Marksteiner.
Platshorn a 1970s pot smuggler was featured in the hit movie, Square Grouper. The trio plan to put Cannabis Planet TV on stations across America. The current station line- ups can be found at http://cannabisplanet.tv/.
On November 23rd Cannabis Planet will air on WHDT in Miami at 7:00 p.m. and this broadcast will be available to the world, streaming live at http://www.WHDT.net. The show will also air on KJLA TV Los Angeles at 10:00 p.m., WGCB in Pennsylvania, KEVU in Eugene, OR, and various Comm. Corp stations in Texas and Louisiana. A complete TV Station listing is available at Cannabis Planet TV.
Media Inquiries, Interview requests, press kits, video clips and photos available: Brad(at)CannabisPlanet(dot)tv
877-420-SHOW (7469) Att. Patrick Bradley