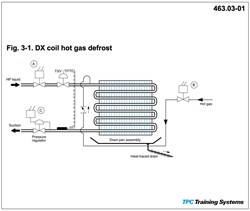 'TPC Training Systems supplies its clients with materials to educate workforces on a wide array of technical subjects,' said Ki Choi. 'Extending TPC's library of support materials allows TPC to provide an even more versatile training solution.'
Buffalo Grove, IL (PRWEB) November 26, 2013
TPC Training Systems has added six PowerPoint presentations to their library of instructor materials. TPC now offers over one hundred presentations designed to help students visualize the key, and often-difficult technical concepts of Air Conditioning and Refrigeration and Ammonia Refrigeration.
The new presentations thoroughly cover each lesson from the following topics:

431 - The Refrigeration Cycle
432 - Refrigerants and Refrigerant Oils
461 - Ammonia Refrigeration Basics
462 - Positive-Displacement Compressors
463 - Evaporators, Condensers, and Controls
464 - Purging, Piping, and Safety
"TPC Training Systems supplies its clients with comprehensive materials to successfully educate workforces on a wide array of technical subjects," said Ki Choi, VP Training Solutions, TPC Training Systems. "Extending TPC's already large library of support materials to include Air Conditioning and Ammonia Refrigeration topics allows TPC to provide an even more versatile training solution."
Each PowerPoint presentation includes colorful visual aids and presentation tips which instructors can use to supplement their classroom lectures. Each photo, diagram, and technical illustration is designed to help students increase their retention and add value to lessons. Future edits and additions to TPC's instructor support product line will be announced in the near future.
For additional information about TPC Training Systems and a complete list of technical and safety training materials, visit tpctraining.com. You can also contact us at 800-837-8872.
About TPC Training Systems: TPC Training Systems is a division of Telemedia, Inc. a privately held company, with headquarters in Buffalo Grove, IL. A leader in industrial skills and safety training, TPC offers a variety of products and services to support clients' technical and safety skills development needs. TPC's self-study manuals, eLearning programs, and instructor-led training classes have been used at more than 40,000 client sites globally to train over 3.5 million skilled workers.