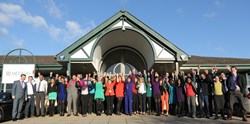 Thank you ID Medical group. This means a lot to all of us Filipino people. From the bottom of my heart, thank you.
(PRWEB UK) 23 November 2013
Responding to the disaster caused by Typhoon Haiyan, multi-disciplinary healthcare recruiter ID Medical this week launched its 'Pride Without Prejudice' nationwide fundraising campaign to help ensure the people of the Philippines receive the life-saving emergency help they urgently need.
Today (Friday 22 November), the force of almost 300 ID Medical employees came to work wearing one of the company's five vibrant logo colours, a brand every member of staff is proud of, and will each donate a minimum £2 to the cause, with the company directors pledging to match pound-for-pound the total raised by ID Medical staff.
The philanthropic initiative, underpinned by ID Medical's 'Together we will make the difference' philosophy, also invites the recruiter's valued customers to join its employees in raising funds for the Disasters Emergency Committee (DEC) - the organisation which coordinates responses to major disasters overseas, enabling the British public to donate to British aid agencies in times of crisis.
Caryn Cooper, ID Medical's head of marketing and CSR ambassador commented, "With many of ID Medical's candidates originating from the Philippines, we really wanted to involve everyone in our fundraising campaign; employees, candidates and clients. It's about everyone uniting, coming together to make the difference and giving all we can to support the people of the Philippines following their catastrophic ordeal."
One nurse from the Philippines working through ID Medical responded to the fundraising campaign: "Thank you ID Medical group. This means a lot to all of us Filipino people. From the bottom of my heart, thank you!"
ID Medical has set up a JustGiving page for donations to the DEC and will be sharing the fundraising campaign's progress via its social networks.
http://www.justgiving.com/idmedical
https://twitter.com/IDMedical
https://www.facebook.com/IDMedical
About ID Medical
ID Medical (HQ in Milton Keynes with a dedicated office in central London) was established in 2002 and has since maintained its enviable position as market leader in the provision of high calibre medical staffing to both the NHS and private medical sectors. As the UK's leading provider of locum doctors, nurses, AHP/HSS and clerical staff, ID Medical holds preferred supplier contracts with over 80% of hospitals nationwide and supplies over 2 million hours to the NHS per annum.
Founded on its core principles of quality of service, dedication, innovation and commitment, the ID Medical Group Limited provides a complete medical staffing solution to its valued partners, forming part of the NHS procurement.
2013 has been a year filled with recognition of ID Medical's first-rate capacity to provide a premier level service to its valued candidates and clients, with the company firmly positioned within the annual Recruiter FAST 50 league, Sunday Times 100 Best Companies to Work for 2013, Investec Hot 100, Recruitment International Top 250 and the REC IRP Awards 2013. This demonstrates ID Medical's commitment to the industry whilst validating its credibility as market leader.
For further information on ID Medical, please contact:
Caryn Cooper
head of marketing
ID MEDICAL - ID House - 1 Mill Square - Wolverton Mill South - Milton Keynes - MK12 5ZD
t: +44 (0) 1908 555 498 f: +44 (0)1908 552 825
w: id-medical.com | e: caryn.cooper(at)id-medical(dot)com