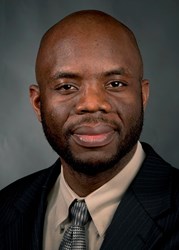 Lake Success, NY (PRWEB) November 24, 2013
The North Shore-LIJ Health System announced today that Zeph Okeke, MD, urology physician at the Smith Institute for Urology, was the first doctor in the United States to remove an enlarged prostate using the second-generation Thulium Fiberlaser system from Germany-based company StarMedTec.
Prostate surgeries using lasers have been performed for decades in the U.S., usually with the holmium laser. Treating enlarged prostates with lasers usually results in a shorter hospital stay, less bleeding and fewer risks of other complications. The thulium laser produces similar results to a traditional surgical prostatectomy without any incisions. The thulium laser is a continuous laser that can be more precise than a holmium laser, which is a pulsed laser.
Dr. Okeke has performed eight procedures using the thulium laser since he began using this method at the end of October. Louis Kavoussi, MD, North Shore-LIJ's chairman of urology, noted that the laser is slated to be used in kidney tumor procedures in the coming weeks.
"Using this laser allows us to decrease the length of a patient's hospital stay and provide them with high-quality results so they can return to their everyday lives sooner," Dr. Okeke said.