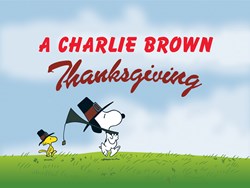 We hope Peanuts fans will enjoy spending their Thanksgiving this year celebrating 'an attitude of gratitude'
New York, New York (PRWEB) November 22, 2013
They're as youthful and vibrant as ever—you'd never guess that this Thanksgiving, the Peanuts gang will celebrate their 40th anniversary as stars of A Charlie Brown Thanksgiving. The classic TV special, which debuted on November 20, 1973 on CBS, gave Thanksgiving dinner a whole new twist: toast, jelly beans, pretzels, popcorn, and sundaes. This year, fans can celebrate the unique Peanuts spirit of Thanksgiving in a variety of ways:
Chat with James Maslow during a Thanksgiving-themed Social Media Party
The star of Nickelodeon's Big Time Rush and member of the band of the same name will host a social media party on Twitter and Instagram, chatting with fans, sharing favorite Peanuts Thanksgiving memories, and giving away great Peanuts gifts.

The Thanksgiving Social Media Party with James Maslow will take place on Tuesday, November 26 at 5:00pm PST/8:00pm EST. Follow hashtag #SnoopyThanksgiving
Soar with Snoopy During the Macy's Thanksgiving Day Parade®
On November 28, Snoopy and Woodstock will ride high during the 87th Annual Macy's Thanksgiving Day Parade® in New York City. This will be Snoopy's 37th Macy's parade—in fact, Charles Schulz's beloved beagle holds the record for the most appearances in the parade, and the most balloon versions (seven).

The Macy's Thanksgiving Day Parade® will air nationwide on NBC Nov. 28 from 9 a.m. to noon in all time zones.
Go Ballooning with "Snoopy's Street Fair" and "Snoopy's Candy Town"
The new Snoopy and Woodstock balloon being paraded during the Macy's Thanksgiving Day Parade® is also making its videogame debut in the "Snoopy's Street Fair" and "Snoopy's Candy Town" games from Beeline.

The Snoopy and Woodstock in-game balloon will unlock on Thanksgiving Day, and will be available free to players over the holiday weekend using the code MACY1.
Create Your Own Charlie Brown Dinner with the Charlie Brown Thanksgiving App from Loud Crow Interactive
An interactive digital storybook featuring Charlie Brown Thanksgiving helps ring in the 40th anniversary of the Charlie Brown Thanksgiving special. In this re-telling of the iconic Thanksgiving classic, the book app will feature original animations, voices, and music from the 1973 television special.

The Charlie Brown Thanksgiving app is available in the Amazon app store for Android, Google play, and in the Apple App store for iPhone and iPad. Price: $5.99
Be Inspired, Be Grateful with the Peanuts Be Thankful Book (Running Press Kids)
In this charming little book, appropriate for ages 4 and up, Charlie Brown, Snoopy, Linus, and the whole Peanuts gang demonstrate kindness and appreciation through humor and wisdom. This assortment of inspirational comics and quotes reminds readers of the importance of giving thanks.

Be Thankful from Running Press Kids is available at Amazon.com; $7.95
Surprise Friends and Family with a Pop-Up Thanksgiving Card from Hallmark
Featuring the Peanuts characters as Pilgrims aboard the Mayflower, this cheerful and clever card wishes the recipient "a boatload of fun on Thanksgiving Day!"

The pop-up Peanuts Thanksgiving card is available from Hallmark stores and Hallmark.com; $7.97
Celebrate the 40th Anniversary of A Charlie Brown Thanksgiving—Over and Over Again
On Thanksgiving night, gather friends and family for the 40th Anniversary broadcast of the beloved Peanuts special, A Charlie Brown Thanksgiving, when it airs on ABC at 8:00 p.m. (ET/PT), followed by The Mayflower Voyagers, in which the Peanuts characters re-enact the Pilgrims' journey and the first Thanksgiving.

A Charlie Brown Thanksgiving and The Mayflower Voyagers will have its 40th Anniversary broadcast on ABC on Thanksgiving, Thursday, November 28 from 8:00–9:00 p.m. (ET/PT).
Then watch both of these classics all over again—as often as you like—with the 40th Anniversary Deluxe Edition DVD from Warner Home Video, remastered with improved picture and audio. The DVD includes A Charlie Brown Thanksgiving, The Mayflower Voyagers, as well as the featurette Popcorn & Jellybeans: Making a Thanksgiving Classic.
The 40th Anniversary Deluxe Edition DVD of A Charlie Brown Thanksgiving is available now on Amazon.com and wherever DVDs are sold; $19.99
"At Peanuts, we're thankful every day for the extraordinary characters that Charles Schulz created, and who continue to charm and inspire audiences around the world," says Leigh Anne Brodsky, Managing Director, Peanuts Worldwide. "We hope Peanuts fans will enjoy spending their Thanksgiving this year celebrating 'an attitude of gratitude' along with Snoopy, Charlie Brown, Linus, Lucy, and the whole gang."
-The End-
About Peanuts Worldwide
The PEANUTS characters and related intellectual property are owned by Peanuts Worldwide LLC, a joint venture owned 80% by Iconix Brand Group, Inc. and 20% by members of the Charles M. Schulz family. Iconix Brand Group, Inc. owns, licenses and markets a growing portfolio of consumer brands including: CANDIE'S (R), BONGO (R), BADGLEY MISCHKA (R), JOE BOXER (R), RAMPAGE (R), MUDD (R), MOSSIMO (R), LONDON FOG (R), OCEAN PACIFIC (R), DANSKIN (R), ROCAWEAR (R), CANNON (R), ROYAL VELVET (R), FIELDCREST (R), CHARISMA (R), STARTER (R), WAVERLY (R), ZOO YORK (R), ED HARDY (R), SHARPER IMAGE (R), UMBRO (R), LEE COOPER (R), ECKO (R), and MARC ECKO (R). In addition, Iconix owns interests in the ARTFUL DODGER (R), MATERIAL GIRL (R), PEANUTS (R), TRUTH OR DARE (R), BILLIONAIRE BOYS CLUB (R), ICE CREAM (R), MODERN AMUSEMENT (R), and BUFFALO (R) brands. The Company licenses its brands to a network of leading retailers and manufacturers that touch every major segment of retail distribution from the luxury market to the mass market in both the U.S. and worldwide. Through its in-house business development, merchandising, advertising and public relations departments Iconix manages its brands to drive greater consumer awareness and equity.