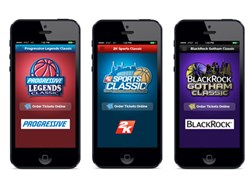 We're excited to utilize GAMEDAY APPS™ to better engage and involve the attendees, participants, and sponsors of our premier basketball events.
Nashville, TN (PRWEB) November 23, 2013
Fans entering Madison Square Garden this week for the 2K Sports Classic benefiting the Wounded Warrior Project and Barclays Center for the Progressive Legends Classic next week won't have to look far for the Official Tournament Program. It will be in their pockets and purses.
Event producer, the Gazelle Group, has implemented the GAMEDAY APPS™ mobile application solution to replace printed souvenir programs. Like any "print" event/game program, GAMEDAY APPS™ provides all the standard program content such as rosters, schedules, facility information, etc., along with dynamic new offerings like ticket ordering, user-generated photo galleries, and tight integration with Facebook, YouTube, Instagram, and Twitter.
"We're excited to utilize GAMEDAY APPS™ to better engage and involve the attendees, participants, and sponsors of our premier basketball events," said Rick Giles, President of the Gazelle Group. "At the same time, we've eliminated the significant printing and labor costs associated with traditional print programs. I guess you could say we've truly 'Gone Green'."
GAMEDAY APPS™ allows sporting event producers/planners, athletic departments, league/conference offices, and amateur and professional sports organizations to better engage their audience while not only reducing costs, but gaining a fully-controlled, ongoing, new source of revenue.
"One of the highlights, and unique client benefits, of GAMEDAY APPS™ is our Host City Visitor's Guide," said Kevin Carver, Horton Group's Director of Business Development. "We certainly bring exciting new exposure to National brand sponsors through in-app video promotions and website links. In addition, our clients can help local community merchants by selling enhanced "Where to Go", Where to Stay", and "Where to Eat" listings that include GPS Directions, "Push to Call" buttons, Website links, and most importantly, Mobile Coupons, to generate new revenues."
Indiana, UConn, Boston College and Washington highlight the 2013 2K Sports Classic benefiting Wounded Warrior Project event, while Pittsburgh, Stanford, Texas Tech, and Houston headline the Progressive Legends Classic. The BlackRock Gotham Classic in December will feature Notre Dame and Ohio State. For complete information on these events, simply download the "College Hoops Events" App in the Apple Store or Google Play.
About the Gazelle Group
The Gazelle Group, of Princeton, N.J., is a sports marketing firm specializing in event production and management, client representation, and sponsorship consulting. Gazelle produces numerous nationally-recognized events, such as the 2K Sports Classic benefiting Wounded Warrior Project, Progressive Legends Classic, the BlackRock Gotham Classic, the College Basketball Invitational, and the All-American Championship. For more information about the Gazelle Group, please visit http://www.gazellegroup.com.
About Horton Group
GAMEDAY APPS™ is a solution of Horton Group (http://www.hortongroup.com), a Nashville-based digital marketing agency. Horton Group's strategic marketing services include: mobile web design & development, social media management & consultation, web development, graphic design, mobile app development, email marketing and more.