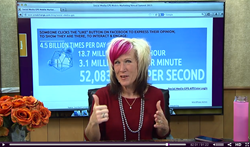 Warsaw, IN (PRWEB) November 26, 2013
Forbes social media influencer releases the Social Media Inner Circle mentorship for small businesses and large corporations for weekly updates on what is happening in the social media realm. With predictions of 5.6 billion smart phones being used by 2019, it is evident to any company seeking to build a social media presence that there are specific strategies that will help them to increase engagement, build relationships, and therefore increase sales.
Sandi Krakowski's Inner Circle mentorship will provide detailed step-by-step information for business owners building a brand on any social media platform. Because the Internet changes so fast, it is important for business owners to stay up to speed on things that change. Krakowski will be bringing the latest news and strategies regarding digital marketing that will apply to any business type.
Krakowski herself has an 18-year track record of working online and building a platform of 600,000 clients in less than 18 months. She is the consulting voice and hands behind not only several multi-billion dollar brands nation wide, but also 1.7 million small business owners.
The Social Media Inner Circle Program with Sandi Krakowski will launch December 1, 2013. There are currently 600 members and will cap at 1,000 members.
About Sandi Krakowski- Voted Forbes Top 50 Social Media Power Influencer, Top 20 Women Social Media Influencer & is a Digital Media Marketing Expert. She is the CEO & Founder of both A Real Change International, Inc and A Real Change Media. Her systems help small business owners and big corporations utilize the online space and social media for brand awareness, company growth and client loyalty. Sandi has been married to Alan Krakowski for 21 years, is a proud mom to Jeremy, Justin and Bobby and has a favorite dog named Kobe and a ragdoll cat named Latte.