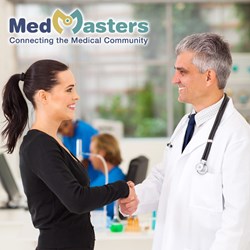 By including social applications and other wide-ranging features, we felt the matching and hiring processes would be more beneficial for both recruiters and candidates.
Ponte Vedra Beach, Fl (PRWEB) November 28, 2013
Medical and healthcare professionals looking for a simple yet powerful way to network with others in the healthcare arena have a new way to connect. Initially developed to serve medical sales representatives, medical recruiters and hiring managers, virtual networking hub MedMasters (http://www.MedMasters.com) has expanded its scope to include men and women at the forefront of the healthcare industry – physicians, nurses, allied health personnel, healthcare IT specialists, administrators and others looking for a powerful way to advance their careers and enrich their professional lives.
Combining the ease of social media applications with the functionality of a traditional job board, MedMasters features tools that allow medical professionals, device manufacturers and distributors, and recruiters to easily connect with each other. The expansion of the site makes MedMasters the most comprehensive professional networking site dedicated solely to the unique needs of healthcare professionals and industry players.
The site was founded by Rick Fromme, a 15-year veteran of the medical device industry. During his career, Fromme noticed that many employers were plagued with high levels of employee turnover and were paying a high price – literally – to satisfy a nearly continual need to rehire. The fault, Fromme realized, lay not with the recruiters or the candidates, but with the process that was being used to match candidates with available jobs.
"With MedMasters, we wanted to design a comprehensive tool where employers could identify candidates who were ideally and specifically suited to the positions they were offering, with the end goal of providing positive experiences for both employers and employees," Fromme said. "By including social applications and other wide-ranging features, we felt the matching and hiring processes would be more beneficial for both recruiters and candidates, resulting in longer-lasting and more fulfilling professional relationships."
Using a targeted search function and proprietary MedMatch and "Shout Out" broadcasting features, medical employers and healthcare providers can attract and locate applicants with the specific skill set they require, or they can draw from a range of qualified personnel whose professional experiences matches user-determined search criteria. The soon to be released product search directory will also allow manufactures and representatives to display their devices and product portfolio for easy sourcing from clinicians and providers in the medical community.
Since its initial rollout, MedMasters has grown quickly to become the go-to destination for top healthcare recruiters and sales professionals. By expanding its membership, Fromme says he hopes the site will play an even more integral role in helping healthcare and medical industry professionals meet both individual and professional goals.
"Our aim is to provide an engaging and active community where medical professionals at all levels and in all areas of healthcare – from practicing professionals to students to manufacturers to sales and marketing people – can connect and share," Fromme said. "While we do offer a great place to post and discuss job leads, members can also take advantage of our proprietary MedConnect social hub to connect with other members, sharing information about research or developments in their fields or areas of expertise – pretty much any topic that will help members advance in their careers and find greater satisfaction in their professional lives."
Joining MedMasters is free and membership is open to all members of the healthcare community and medical industry. To learn more about MedMasters and how it can help you or your organization connect and collaborate more effectively, visit their website at http://www.MedMasters.com.
About MedMasters
MedMasters LLC was developed to provide a robust networking platform where members of the medical community can connect in a more effective and more meaningful way. As the healthcare industry's most comprehensive professional networking site, MedMasters features an easy-to-use interface and multiple tools to make connecting easy. Serving the entire healthcare community, from practicing professionals and healthcare administrators to device manufacturers and marketing personnel, MedMasters is the natural evolution of the career management and fulfillment process.